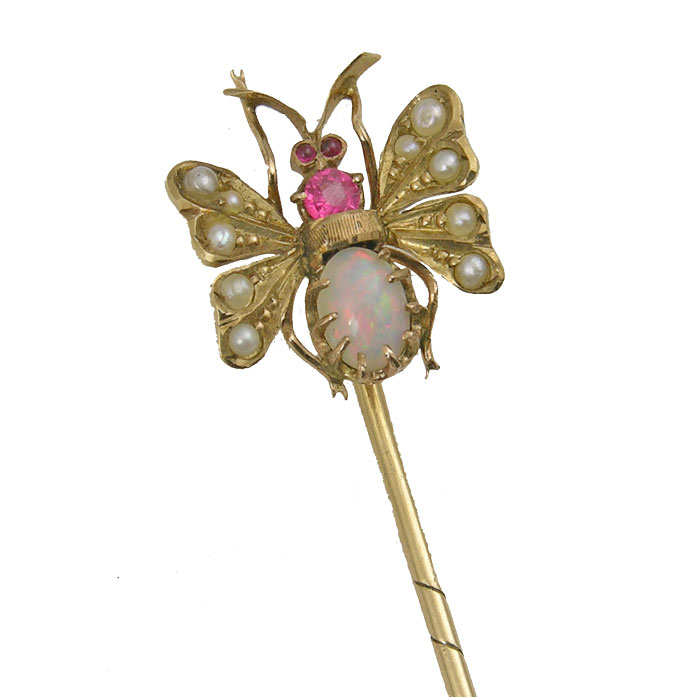 Gold Victorian stone set butterfly stick pin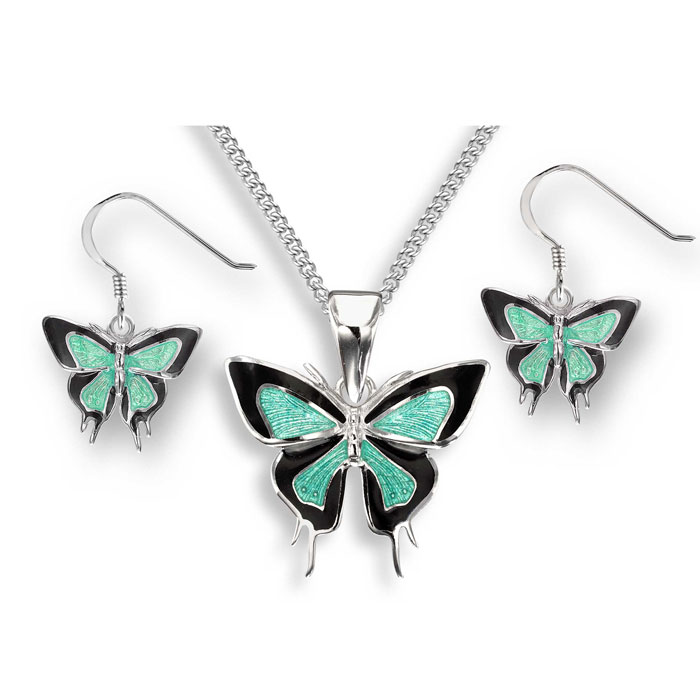 Silver and green vitreous enamel butterfly necklace £127 and earrings £93 our ref 103698 103714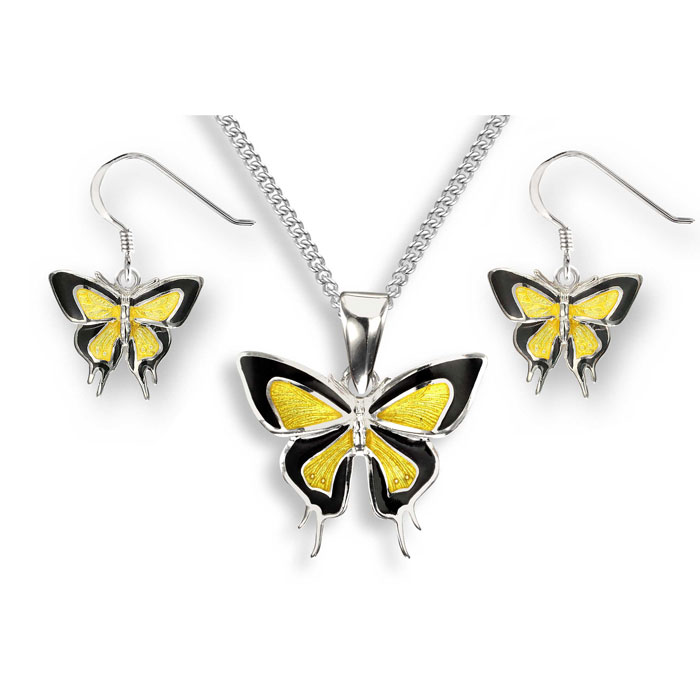 Silver and yellow vitreous enamel butterfly necklace £127 and earrings £93 our ref 103695 103712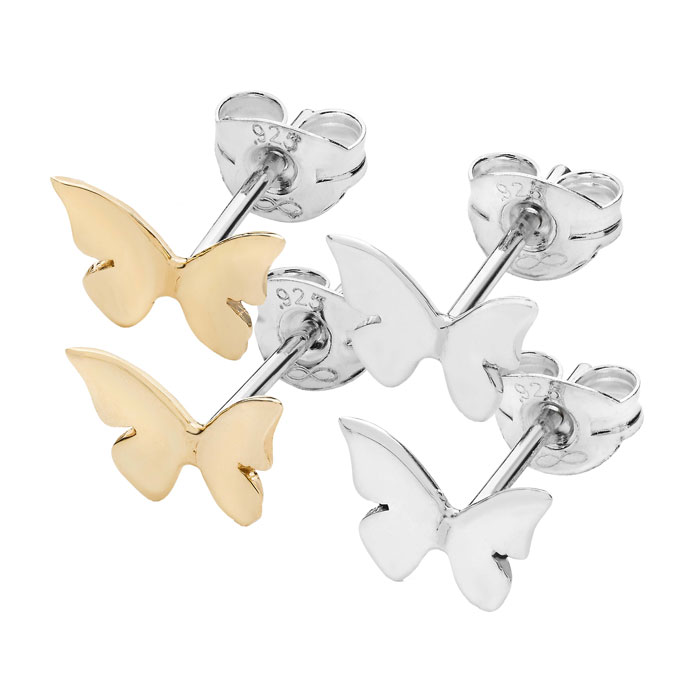 Butterfly and Moon collection stud earrings Silver £32 and 9ct gold £105
Eighteenth century jewellery designers had a fascination with nature and took inspiration also from insects, so by the 1860's insects featured as a jewellery accessory on bodices, hats and veils. This sweet gold Victorian butterfly stick pin set with pearls and opal body would have looked perfectly placed pinned on a hat!
Butterflies were also a popular subject for jewellery because of their physical and spiritual quality. Not only this, they have such a distinctive shape and are so colourful. These current designs capture this shape and are quite striking using a mix of silver and vitreous enamel in contrasting colours.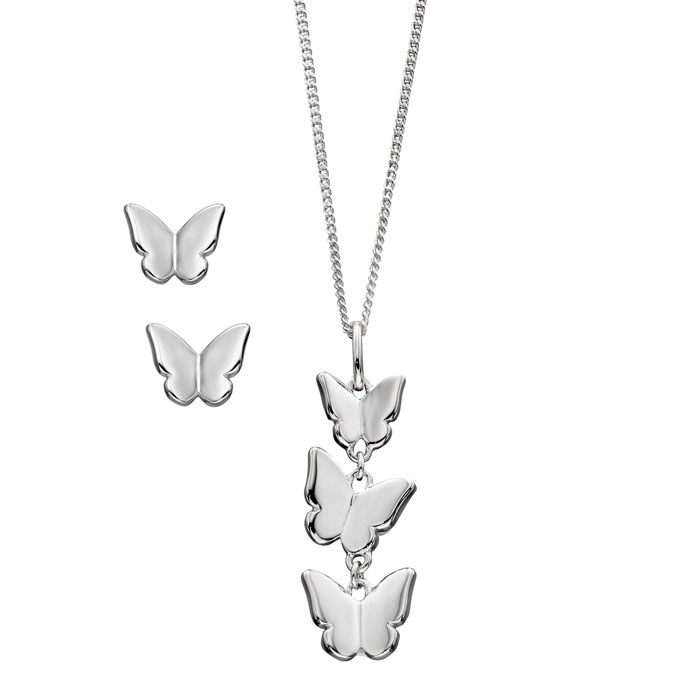 Silver butterflies pendant £32 and earrings £28
Gold plated silver bee and honeycomb pendant £48 and earrings £55 our ref 103035 103037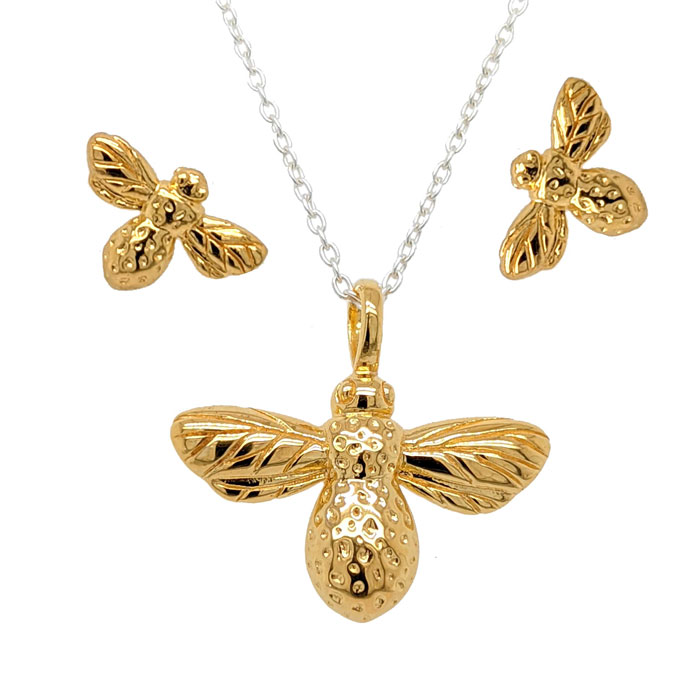 Gold plated silver bumble bee necklace £55 and stud earrings £33 our ref 101823 104388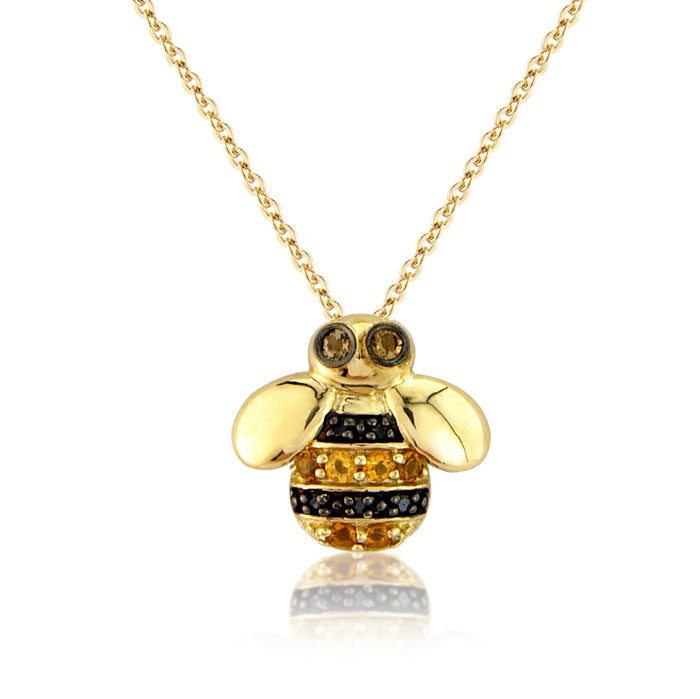 9ct yellow gold bumble bee pendant set with citrine on a chain £295
Bees have long been associated with determination and hard work, possibly because of its association with the Bonaparte family in the 1860's, who used the bee as their emblem and so   became very fashionable. With its lovely round shape, it is no wonder there are so many designers today creating bee inspired jewellery.
The little citrine and black diamond bumble bee is so cute. Initially drawn by the designer's young daughter, the picture was then made into a gold pendant for his collection
This silver collection revolves around bees too. I also like the fact that every 15% spent goes towards helping bees by the British Beekeepers Association.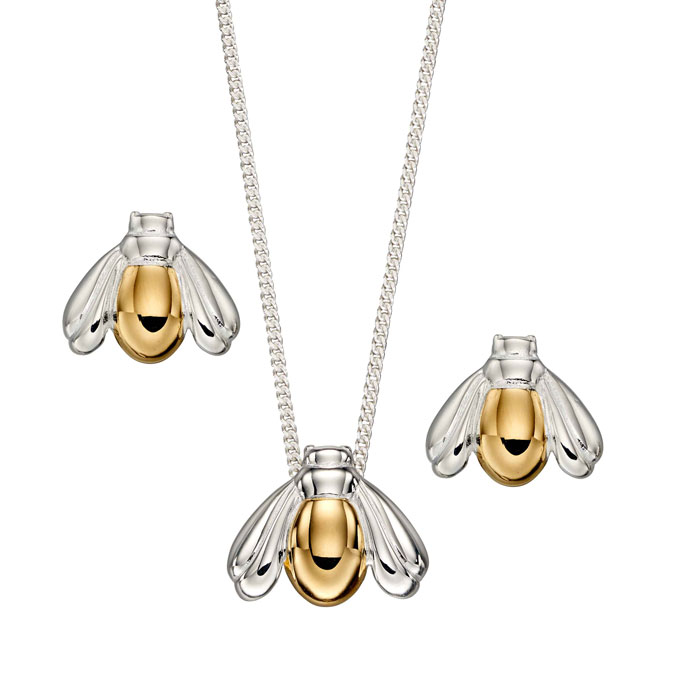 Silver and gold plated bee pendant £42 and stud earrings £45 ref 103760 103783
Silver gold plated Bee on flower-pendant £44 and drop earrings £42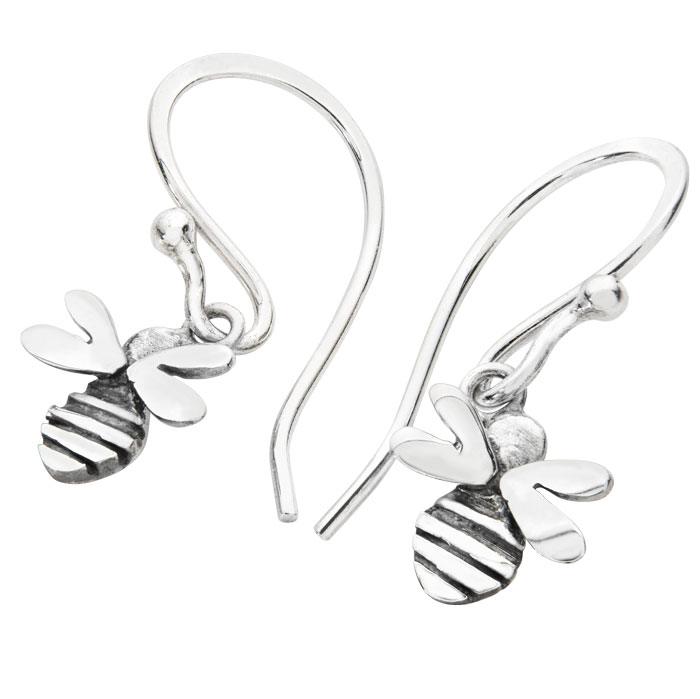 Silver Bee earrings £32 ref 104513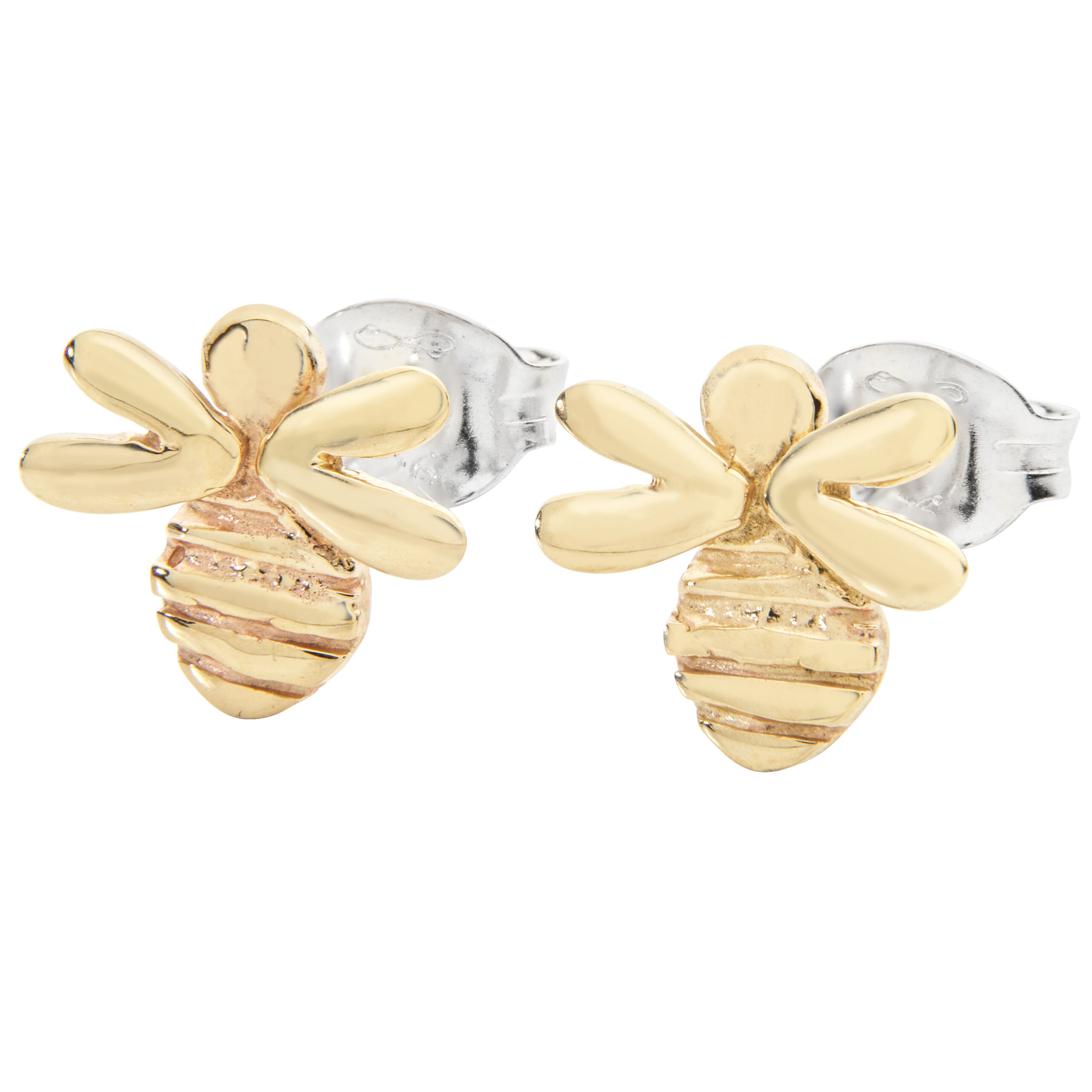 Silver and gold Bee earrings £86
This year Scottish designer Linda Macdonald has also introduced some small bee earrings as part of her new collection.
Another winged creature, the dragonfly, captures my attention because of the way they dart and are gymnastic aerialists! They were a favoured subject by the jeweller Rene Lalique who used a technique called plique-à-jour enamel to create the dragonflies lacey wings creating a miniature stained glass window and perfect to create an insect's wing
This specialist technique is still used today in this plique-à-jour dragonfly silver and enamel brooch and antique reproduction dragonfly silver and yellow pendant set with white sapphires.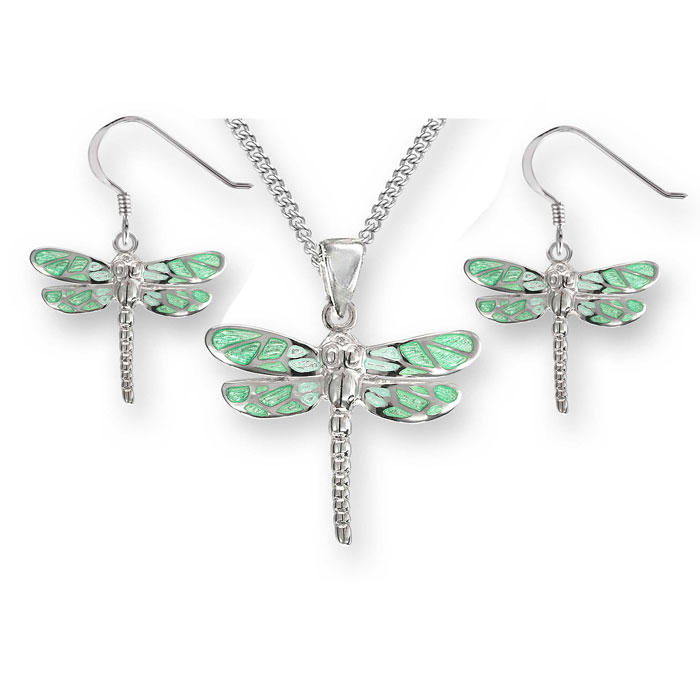 Green enamel silver Dragonfly necklace £127 and earrings £85 ref 103693 & 103711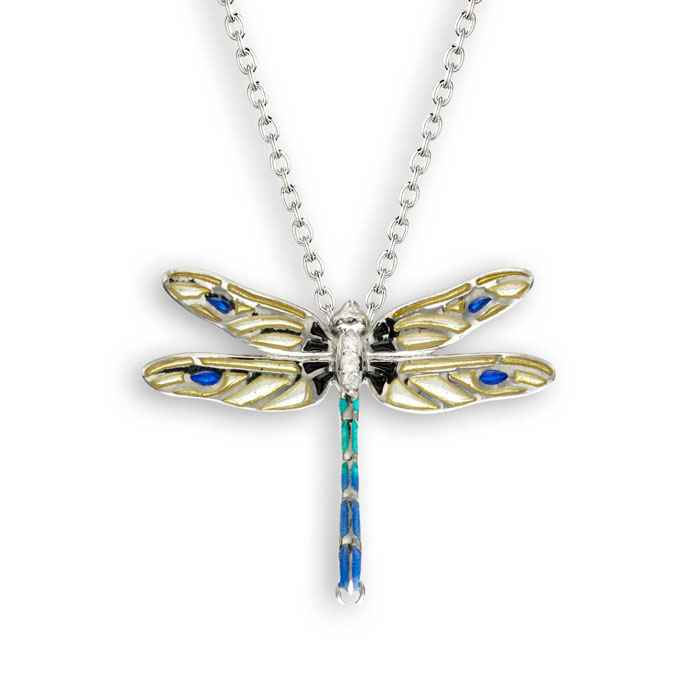 Antique reproduction plique-a-jour dragonfly silver and yellow pendant set with white sapphires £165 ref 96980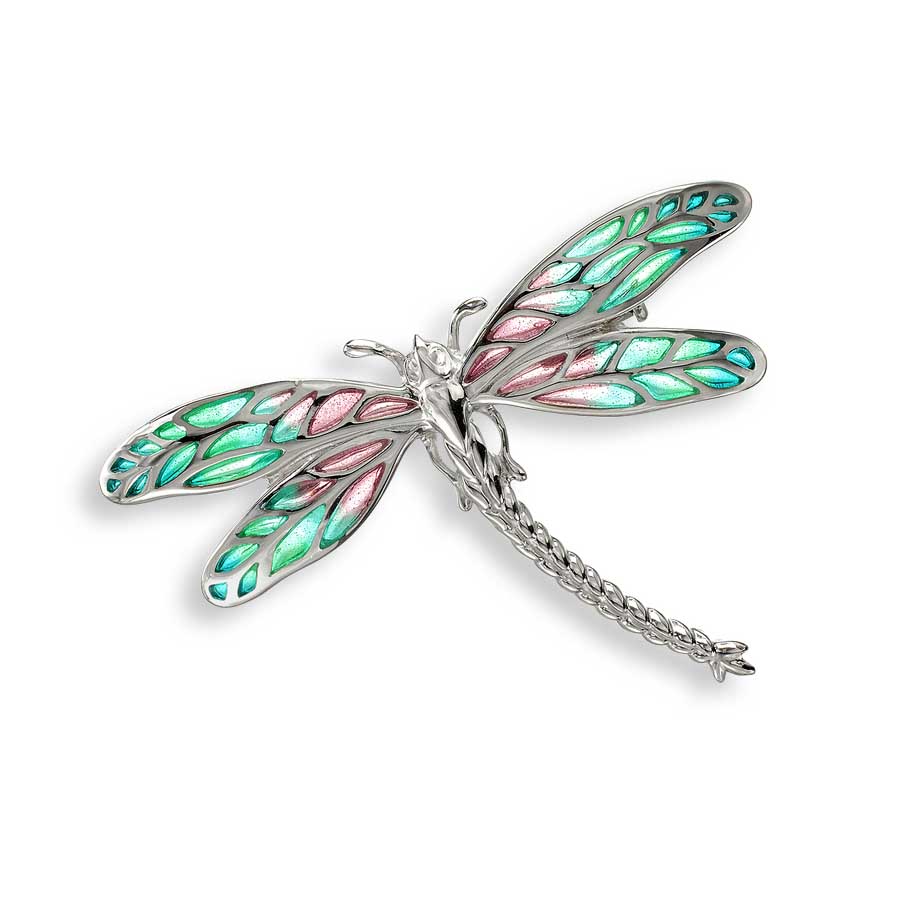 Plique-à-jour dragonfly silver and enamel brooch £169 ref 103718