To help out during this lockdown you can have a "Virtual appointment" via Zoom where we can show you what we have available and talk you through the possibilities.  Then when you have made a choice we can arrange click and collect or delivery.    So click on our appointments section to book yourself in, and start to bring the joy into this Christmas.
So let's see if I can inspire you to spread the season of good will and bring joy this Christmas!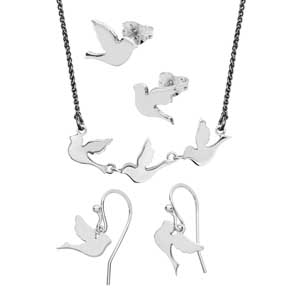 Three little bird collection stud earrings £32, necklace £86 & drop earrings £49
John Garland Taylor silver hammered cufflinks £104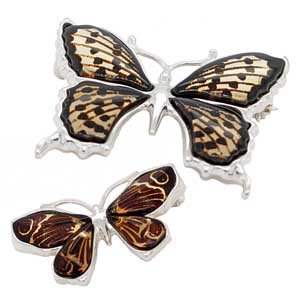 Silver lazered amber butterflies brooches from £55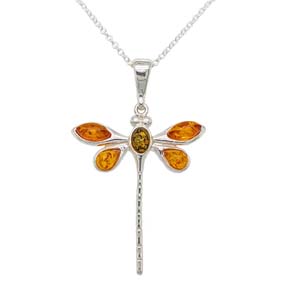 Silver amber dragonfly pendant on a chain £52
Earlier this year, during lockdown, Scottish designer Linda Macdonald designed a new collection called 'three little birds' which she says 'reflects on the small things which bring smiles and happiness to brighten our day'.
I'm a great believer in supporting the smaller British designers and we love John Garland Taylors work – handmade silver jewellery from Warwickshire.
Looking further afield, another small family business from Poland that I have known for many years specialises in amber pieces. Piotr's work is always unique and this autumn he has brought to us new designs which includes silver lazered butterfly brooches.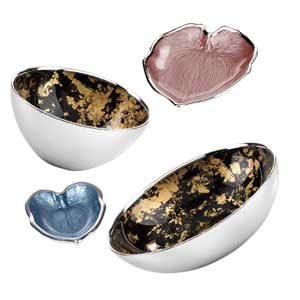 Silver and glass Argenesi from £36 Silver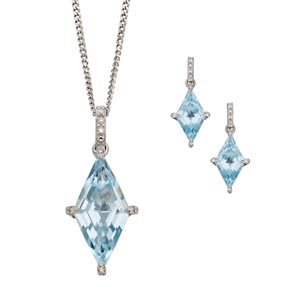 9ct white gold blue topaz and diamond pendant on chain £420 and matching earrings £470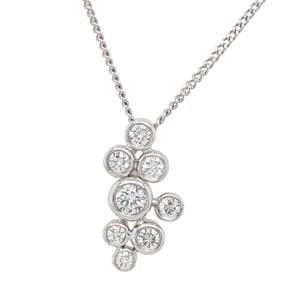 18ct White gold bubble pendant on a chain £1,635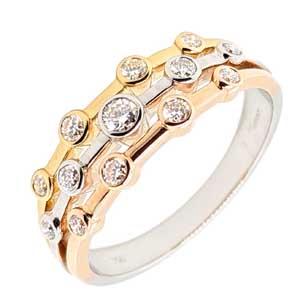 18ct Three colour diamond set bubble ring £1,495
Still with a European flavour, who can resist our colourful Argenesi silver and glass bowls – Italian style at its best!
Spot the little diamonds set on each corner of the blue topaz stone on this newly designed pendant and earring set. I think the white gold contrasts beautifully with the striking ice blue colour of this unusual cut gemstone.
New additions to our lovely 'bubble' collection and featured on the back page is the 18ct rose, yellow and white gold bubble ring sprinkled with tiny diamonds! If you love white gold, then you might be tempted by this white gold diamond bubble pendant set in 18ct.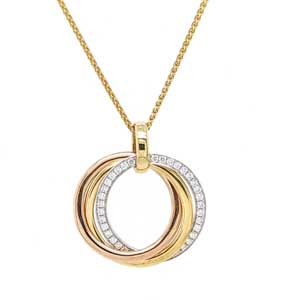 18ct diamond set interlocking ring pendant on chain £2,045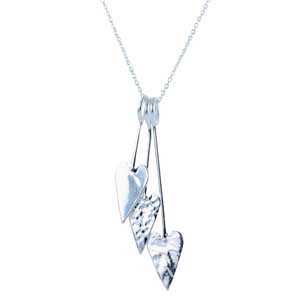 Silver hammered triple heart pendant on a chain £49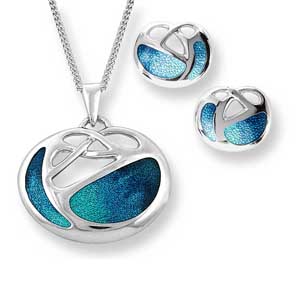 Silver & enamel art nouveau inspired pendant on chain £105 & matching stud earrings £55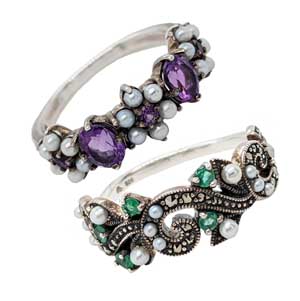 Silver pearl & marcasite rings with amethyst £95 or emerald £135
This silver triple heart textured pendant has been a favourite and some pictures don't do justice to this great pendant – but here goes….
Christmas wouldn't be Christmas without Enamel work from Nicole Barr. I decided to feature my favourite, an 'art nouveau' inspired piece. I love the graceful curved lines of this pendant and the vibrant peacock blue enamel.
Some ring designs speak for themselves. These vintage inspired delicate seed pearl and marcasite rings have an added flash of colour from amethysts or emeralds. Simply stunning.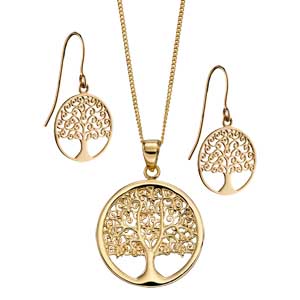 9ct gold tree of life pendant on chain £290 & matching earrings £115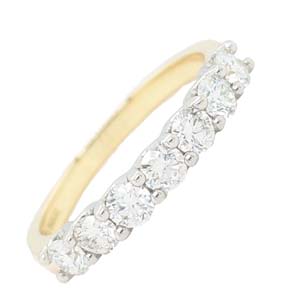 18ct gold 7 stone diamond ring£2,500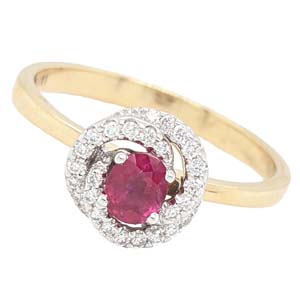 18ct gold ruby & diamond swirl cluster ring £1,125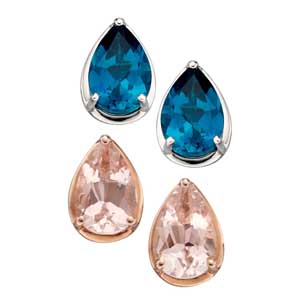 White gold London blue topaz stud earrings £145 & rose gold morganite stud earrings £165