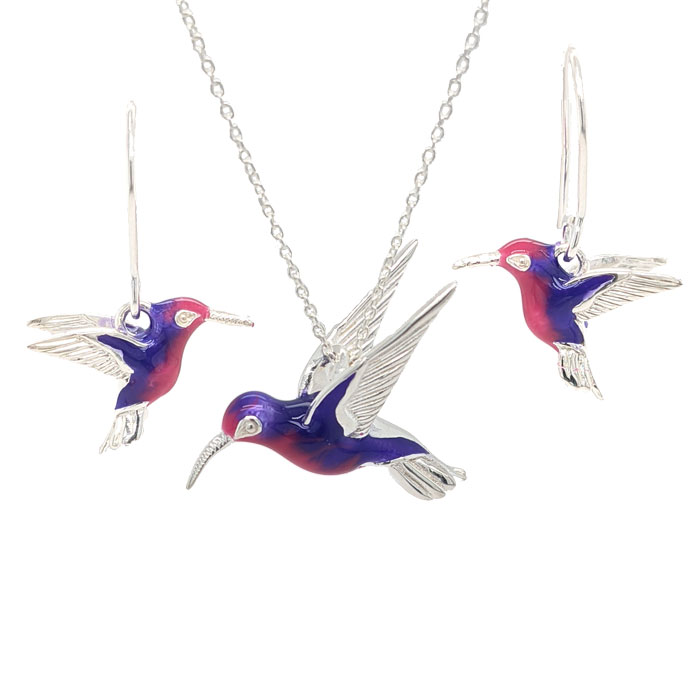 Silver enamelled hummingbird necklace £65 and earrings £45 our ref 103080 & 103031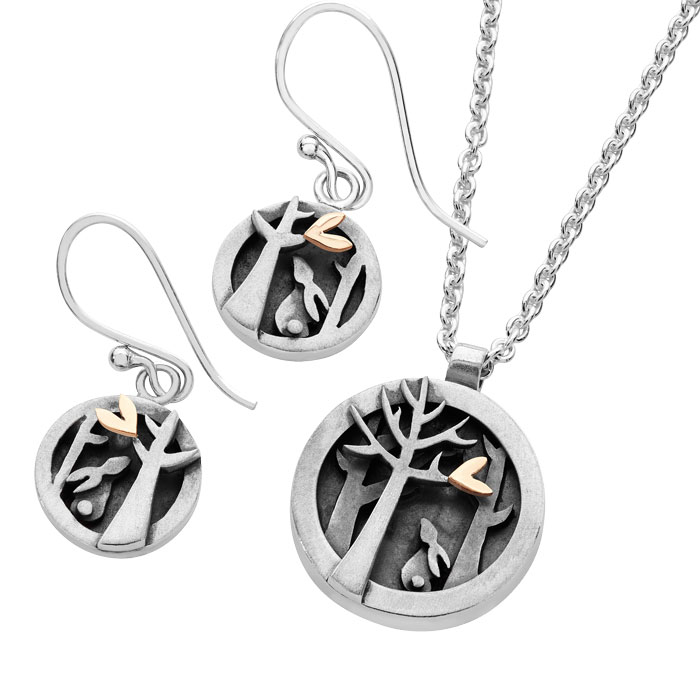 Silver and 9ct gold Woodlands earrings £92 and pendant £159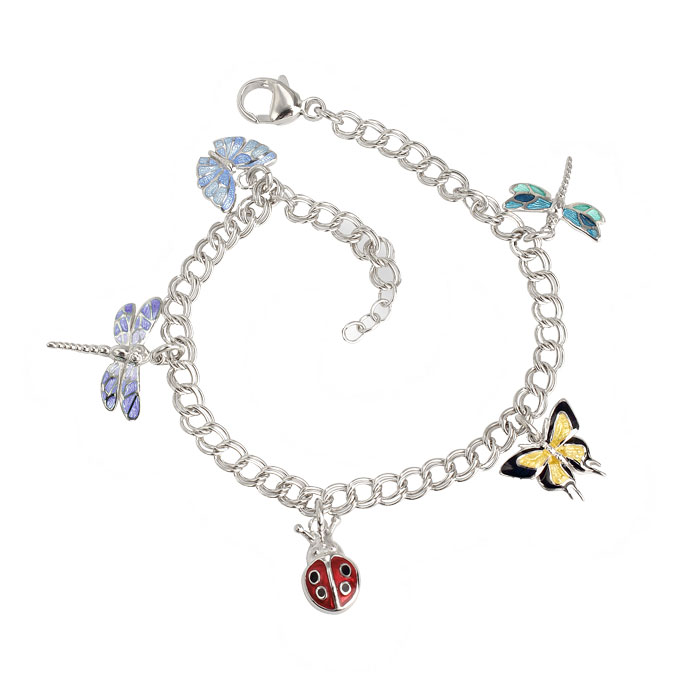 Enamel on rhodium plated silver insects bracelet £240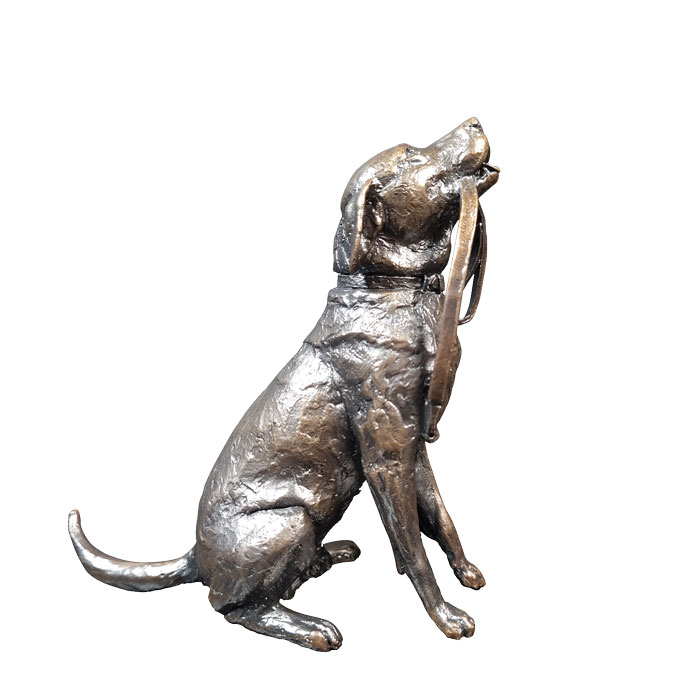 Bronze Labrador with a lead £195
We have a bit of a bird and animal theme going on this Christmas….. The bright little humming bird pendants and earrings are super cute in blue /green or purple /pink enamel.
Delicate and detailed sums up my favourite Scottish designer, Linda Macdonald.  I love the 3D effect with the tree cut out overlaying the woodland scene and spot the small hare gazing.
I've included the specialist enamel work that is involved in this silver bracelet which is hung with miniature butterflies, dragonflies and the odd ladybird!
These stunning limited editions bronzes use the ancient method of lost wax casting. I have a very soft spot for this bronze Labrador. Ours loved to carry anything from leads to sticks!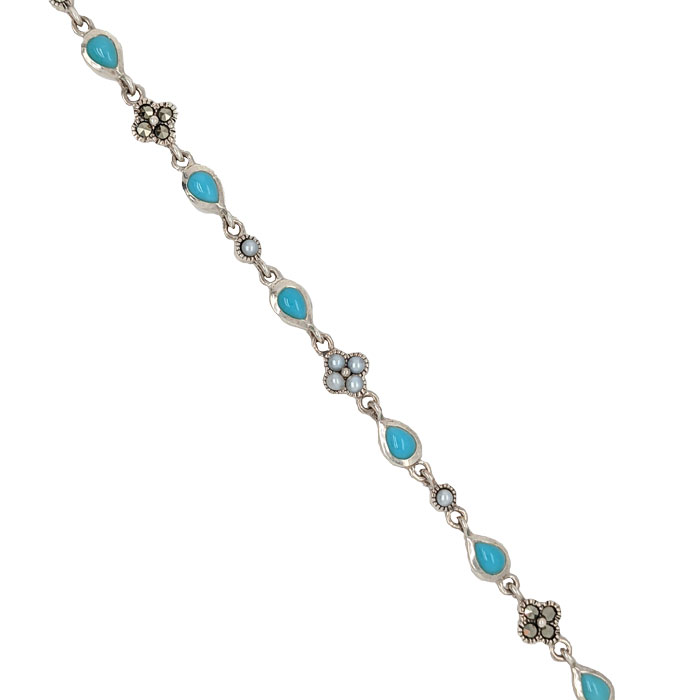 Marcasite, pearl and turquoise bracelet £145 our ref 102950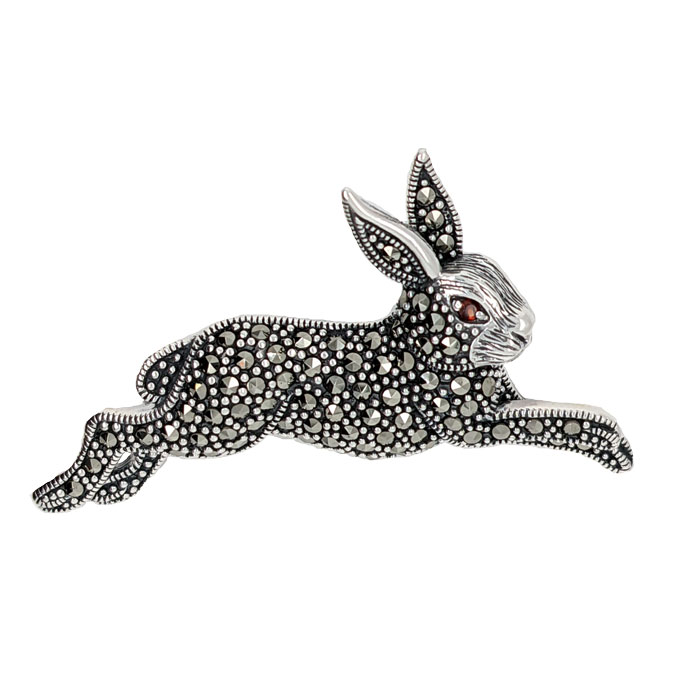 Silver marcasite running hare brooch £95 our ref 102948
9ct bones rings £325 diamond set £485 refs103231 103232 103246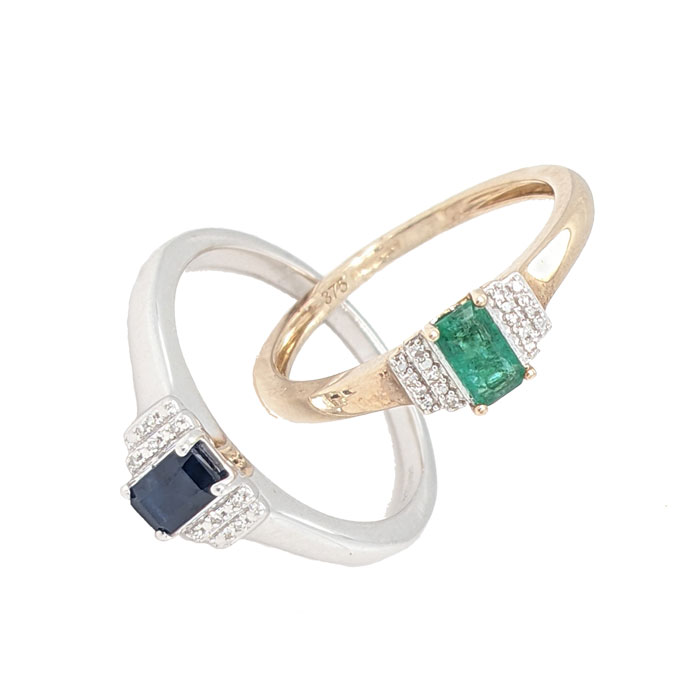 Art Deco inspired 9ct diamond and baguette cut emerald ring £485 and sapphire £495 ref 97658 102380
For those who love marcasite, I found a silver hare brooch!  Or those who like me, are born in December marcasite, pearl and turquoise bracelet….
Some designers seek their inspiration from the unusual! In this case this collection is called bones! Simplistic in style and a mix of coloured golds, with or without diamonds – these rings can be worn as singles or work really well together.
The Art Deco period continues to inspire young jewellery designers of today. These two vintage inspired rings use key design elements including geometric and colourful stones
Geometric crisp lines are also used in this striking white gold ice blue topaz and diamond pendant using a marquise shaped gemstone. There are earrings to match.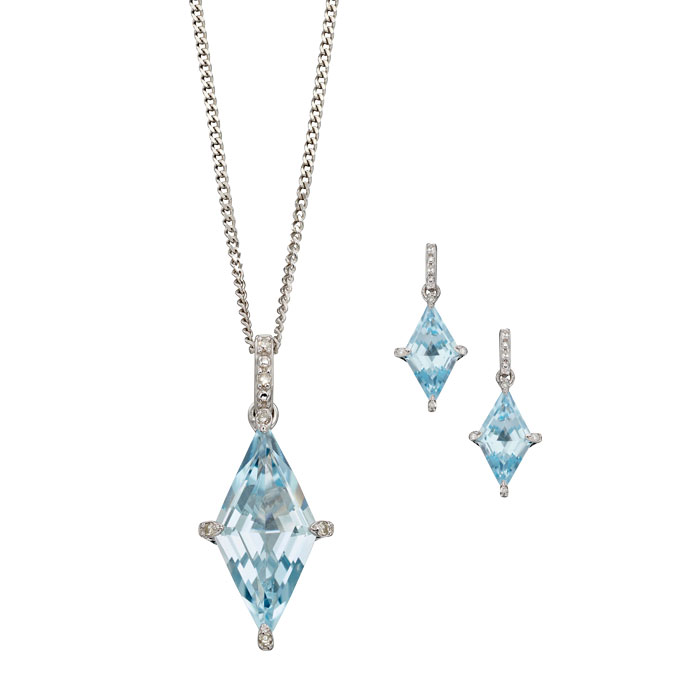 9ct white gold blue topaz and diamond pendant on chain £420 and matching earrings £470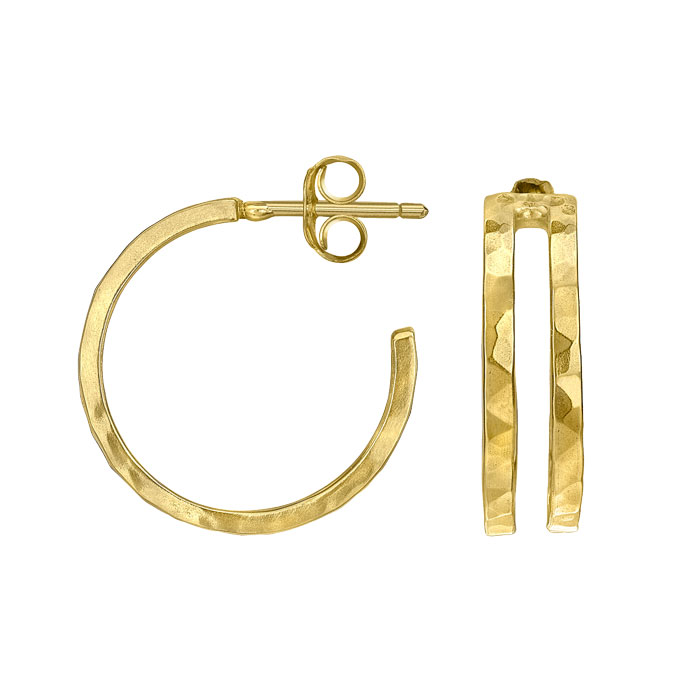 Dower and Hall hammered vermeil hoop earrings £125 ref 103486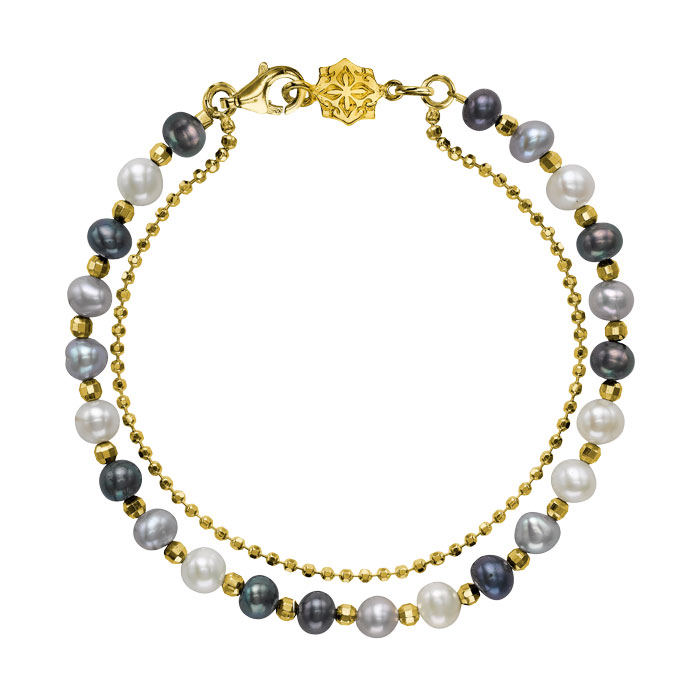 Dower and Hall mixed gemstone bracelet £98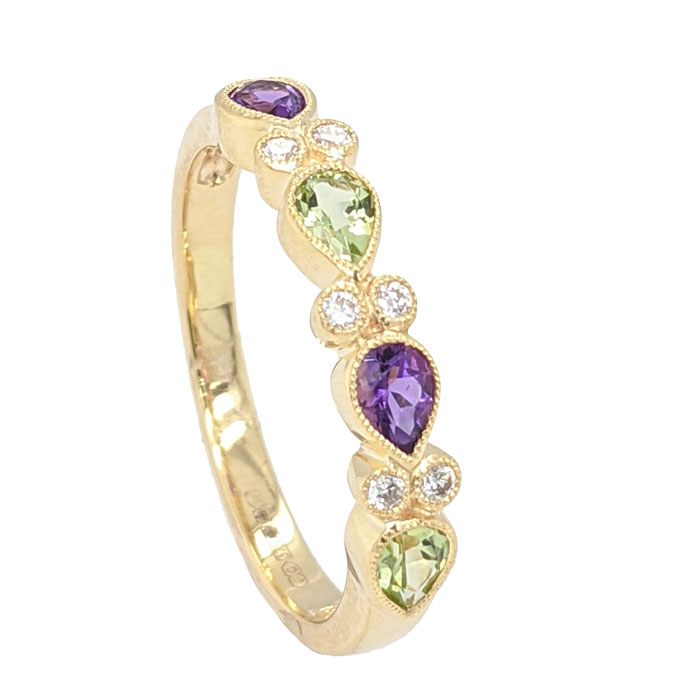 9ct yellow gold amethyst peridot and diamond ring £945 ref 103341
London based designer Dower and Hall ethically source their gemstones and use recycled metal. I've picked out two examples of their work, their popular mixed gemstone bracelet and hammered hoop.
You may notice this ring because of its gemstone colour combination! The lime green peridot, purple amethyst and white diamonds are the three colours that were used by the suffragettes in the early 20th century.  A beautifully designed ring with the gemstones spelling out the meaning of loyalty, purity and hope.
We have a take on the classic bubble ring…  a bubble pendant and earrings.  They come in a range of styles and prices but the ones shown are the style we are advertising this Christmas.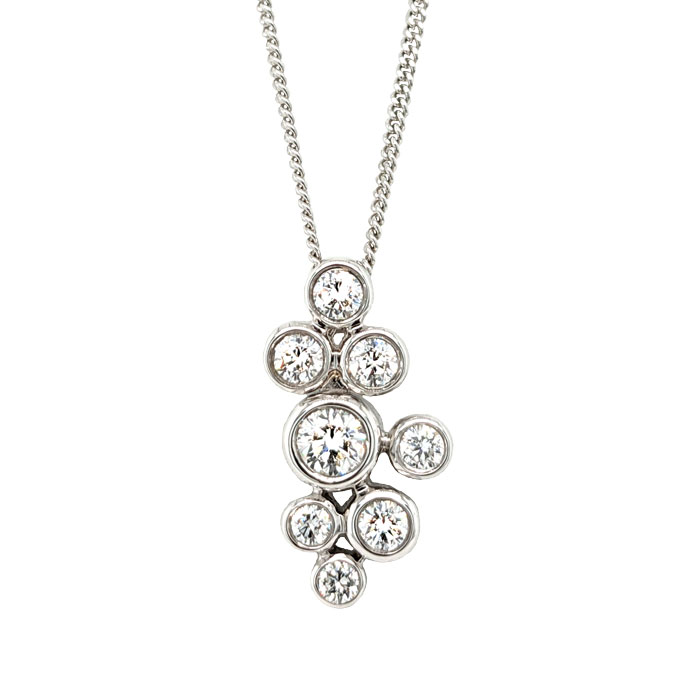 18ct white gold diamond bubble pendant with necklet £1,545 our ref 101864 81882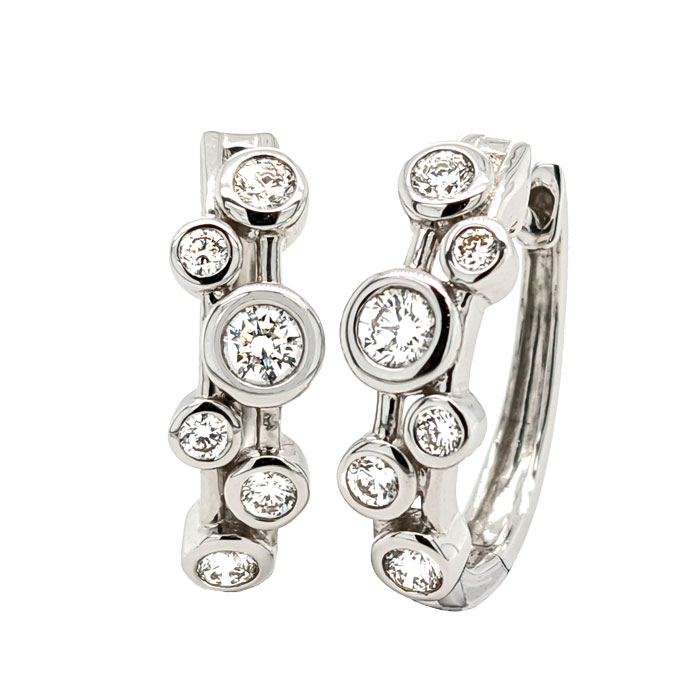 18ct white gold diamond bubble earrings £1,485 ref 102253 o
Marrakesh jewellery boxes £115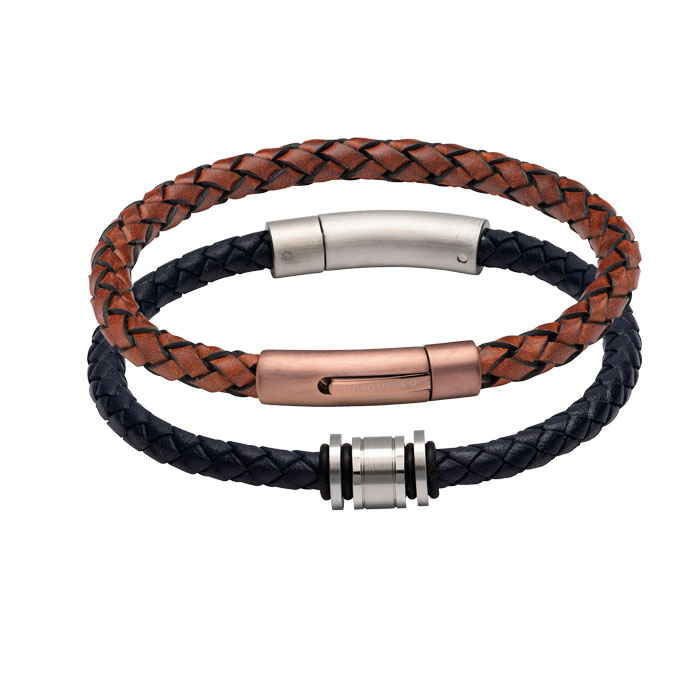 Leather bracelets from £39
For the boys……. Still as popular as ever, leather bracelets, inspired skeleton movement cufflinks and wood rings
And last but not least we have 'Wolf 'leather designs.   The Marrakesh jewellery boxes are inspired by the exotic.  Available in cream or black with leather and gold studding creating patterns within patterns.   For those who enjoy automatic watches, there are Wolf watch winders which are in my opinion the best you can get.  Starting with the single cub or perhaps consider the British Racing Green collection.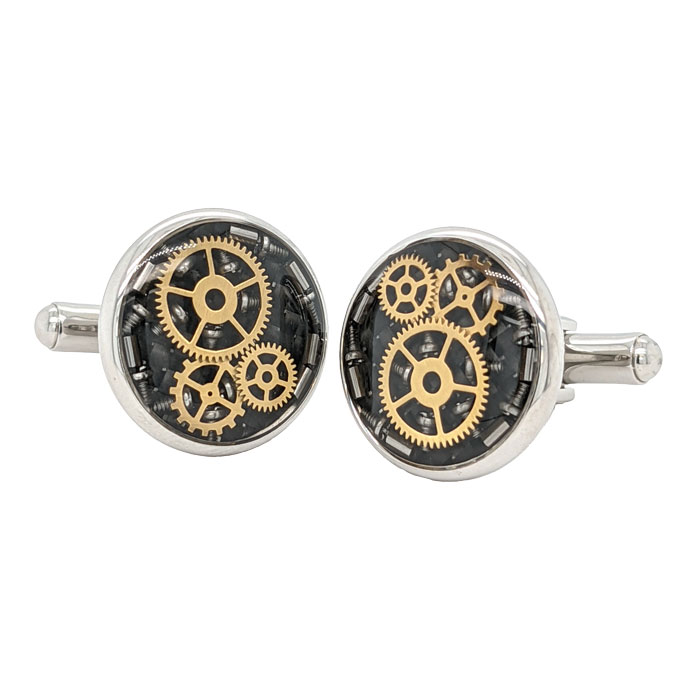 Skeleton movement cufflinks £39 ref 103410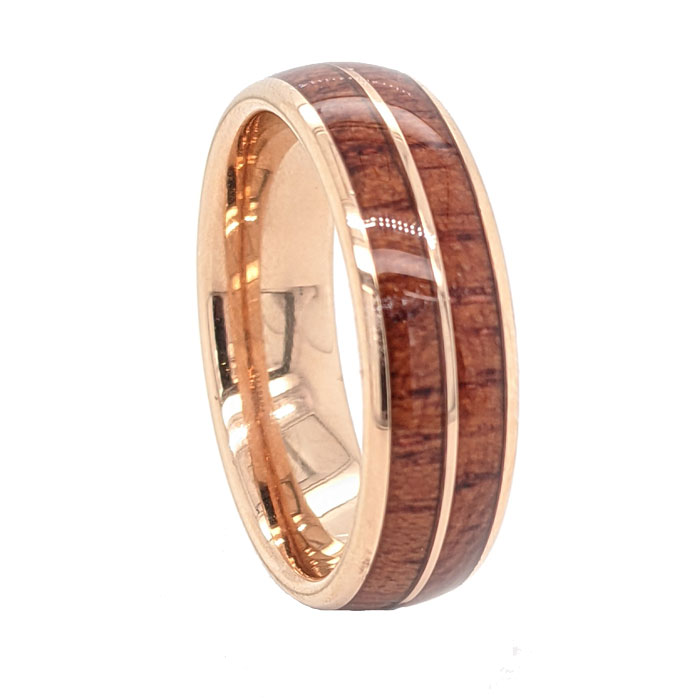 Tungsten Carbide wooden inlay ring in rose £49 ref 103403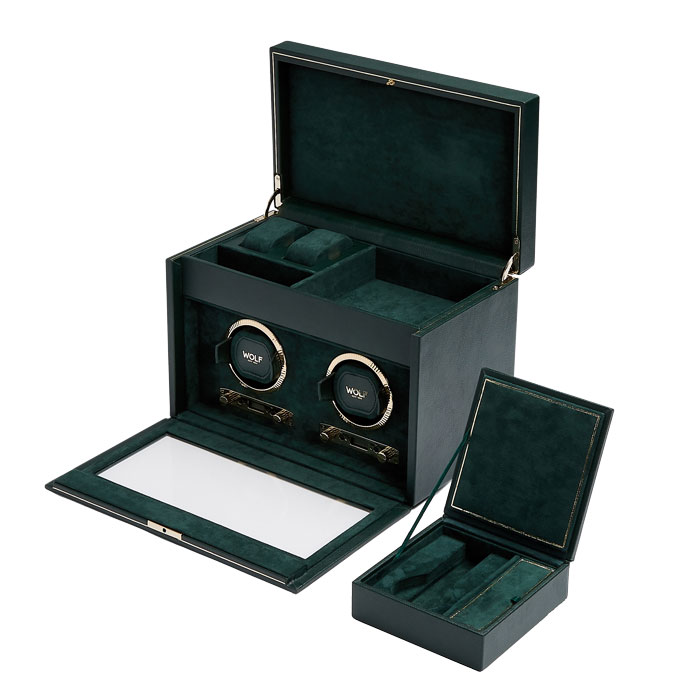 British Racing Green double watch winder £1,139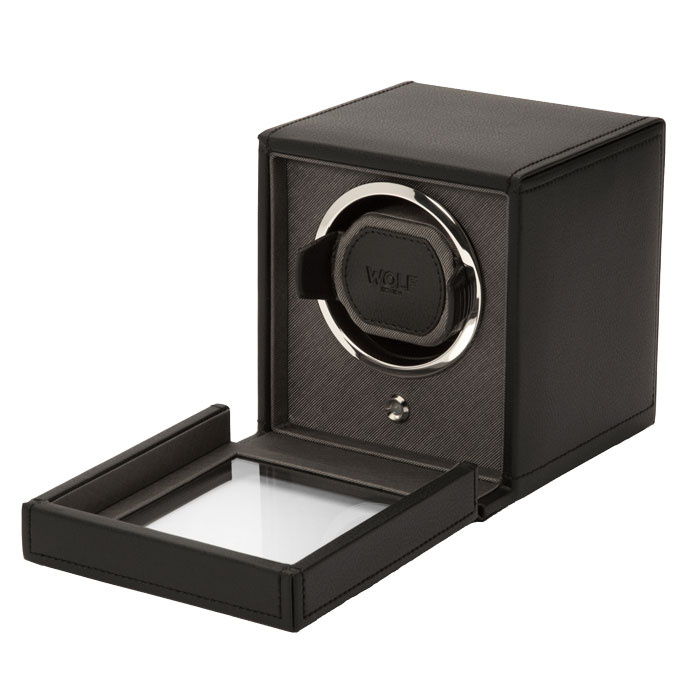 Wolf cub watch winder £269