Women emerged from the Great War emancipated and this exuberant spirit was reflected in what clothes they wore. The vertical lines of the new columnar tunic dresses, blocks of colour and essential geometry provided a new avenue for the 1920 -1930's jeweller to exploit and design fabulous jewellery.
So, by the 1930's pretty pins and bows had been replaced by the diamond double clip brooches which were the most popular 1920's - 1930's accessories. The double clip was either worn as a single brooch or the clips could be separated from the frame and worn on both lapels of a jacket. Often set with brilliant and baguette diamonds, my example is the paste version which I've had for many years, but still as pretty!
It wasn't just diamonds that were used to reinforce this Art Deco concept; rock crystal, diamante and marcasite were set in silver or platinum jewellery and used to great effect. These Deco inspired marcasite silver drop earrings and graduated fringe pendant are very effective.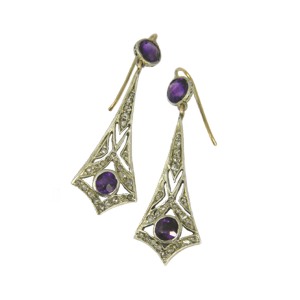 Pre owned silver & 9ct gold period amethyst & diamond earrings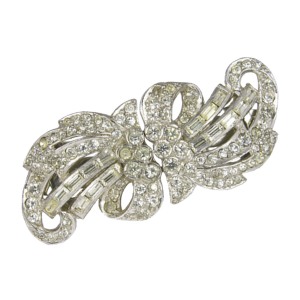 White metal and paste art deco dress clip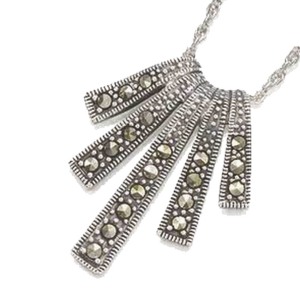 Silver & marcasite fan style pendant with chain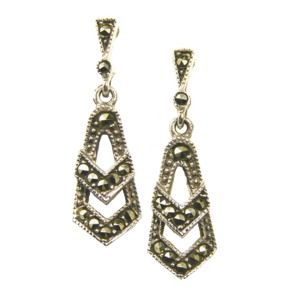 Silver marcasite Art Deco style drop earrings
Another classic feature of Art Deco jewellery is the dense concentration of precious stones set in geometric patterns held together in discreet and delicate white settings as can be seen in this striking platinum diamond brooch.
Introducing this newly designed 'Art Deco' inspired pendant and earring set from Nicole Barr who artfully uses the sunray pattern in a vibrant blue turquoise enamel and set with white sapphires. Other coloured enamels are available.
For a touch of elegance and glamour we love this new 'Empire' Art Deco inspired silver jewellery collection and featured on the back page. The designers have used the sunray and starburst elements in these designs and also added a modern concept of personalization by having plain back suitable for engraving. Another appealing feature of the starburst drop earrings is the detachable chain so that these can be worn as studs or drops – clever!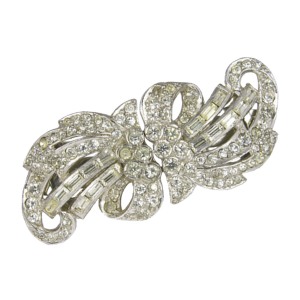 Platinum diamond art deco brooch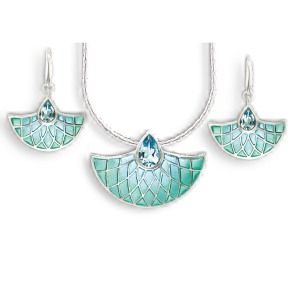 Silver aqua enamel with blue topaz fan wire earrings & necklet
Silver Art Deco style spinner necklace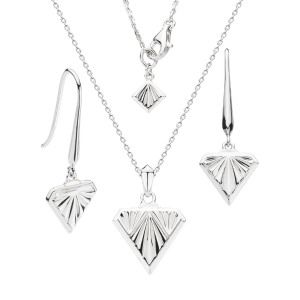 Silver Art Deco style necklace & drop earrings
For something unique and quite special, we feature pre loved rings that are sleekly beautiful and geometric. The ideas of blocks of colour are strongly reinforced in the Art Deco concept as we can see in this striking ruby and diamond panel ring. The emerald and diamond cluster ring incorporates lovely details such as baguette diamonds and fine box settings.
I absolutely love this time period for design. Aztec sunray patterns from Mexico, stepped pyramid and pagoda shapes from Egypt and China influenced not just jewellery but all forms of art and design. The movement inspired some fabulous architecture, for example there are still a few of the Deco 1930's cinemas around today – Melton Mowbray Regal is a real gem.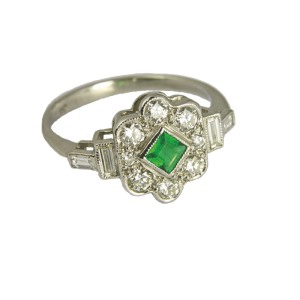 Pre owned platinum emerald & diamond cluster ring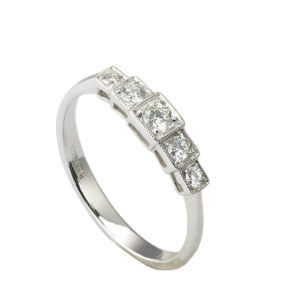 18ct graduated 5 stone diamond square hoop ring
Silver marcasite Art Deco style cuff earrings
Silver art deco style blue enamel with white sapphire earrings & necklace