Jewellery designers are taking this inspiration with an abundance of colour; pinks, purples, reds from gorgeous gemstones including mixed garnets, amethysts, sapphires, rubies and lots more.   It really is a coloured gemstone cocktail.
A lovely example is this mixed gemstone ring and pendant artfully create a coloured gemstone palette which includes tourmaline, citrine, iolite, morganite, amethyst and garnet.
Sadly, the January birthstone garnet often gets overlooked! – I love the vibrant red varieties of this lovely gemstone.  Pyrope has a more blood red colour whereas almandine has a purplish darker hue. Small rose cut pyropes were used in Victorian jewellery and were hugely popular throughout this time period.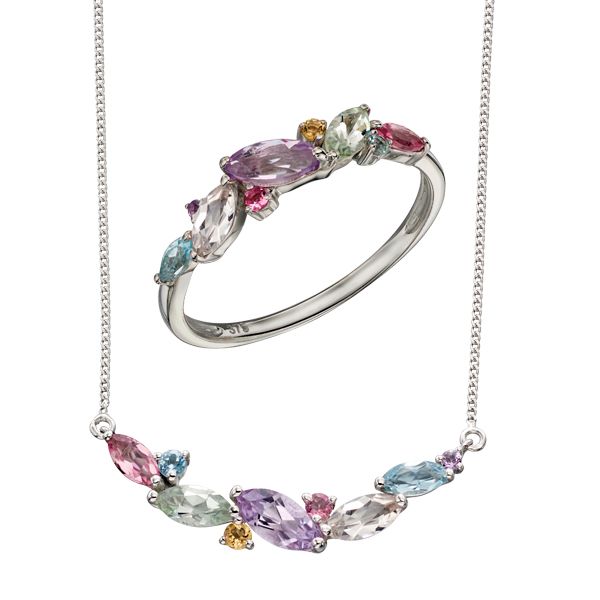 9ct white gold set with pink tourmaline, sky blue topaz, citrine, amethyst, rose de France amethyst, green amethyst, morganite necklace & ring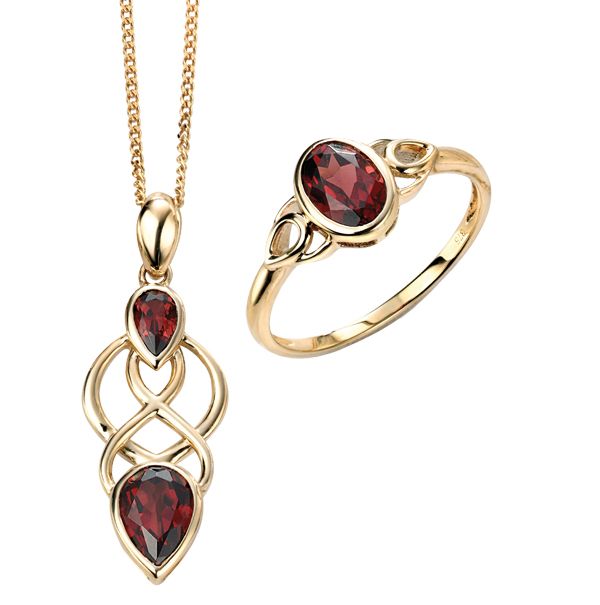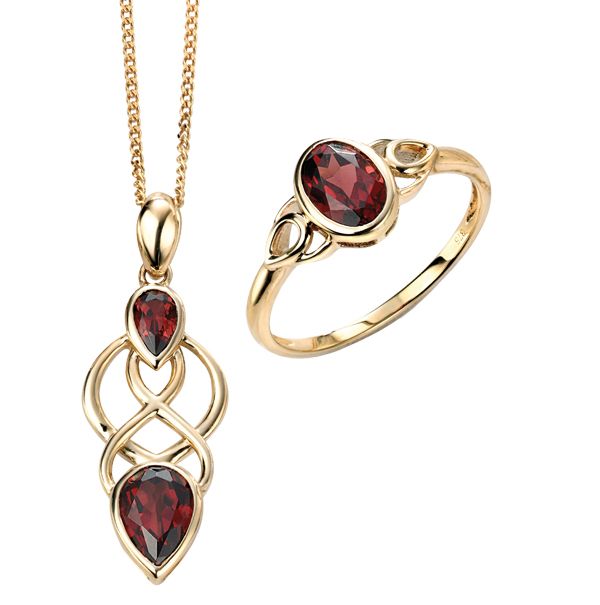 9ct yellow gold celtic garnet ring & pendant on chain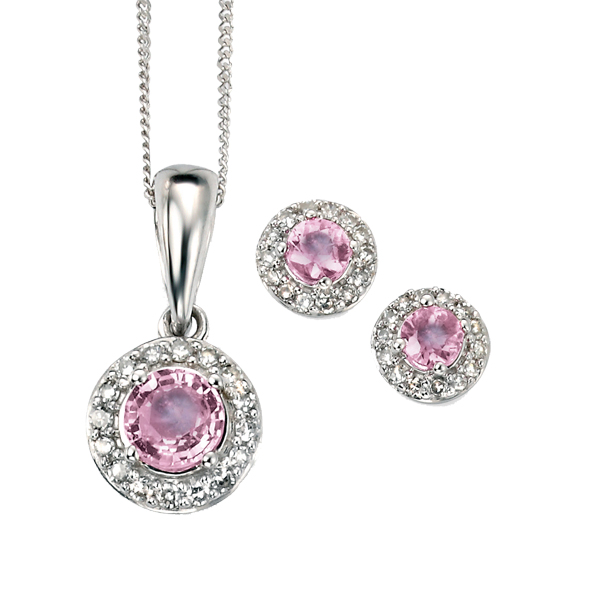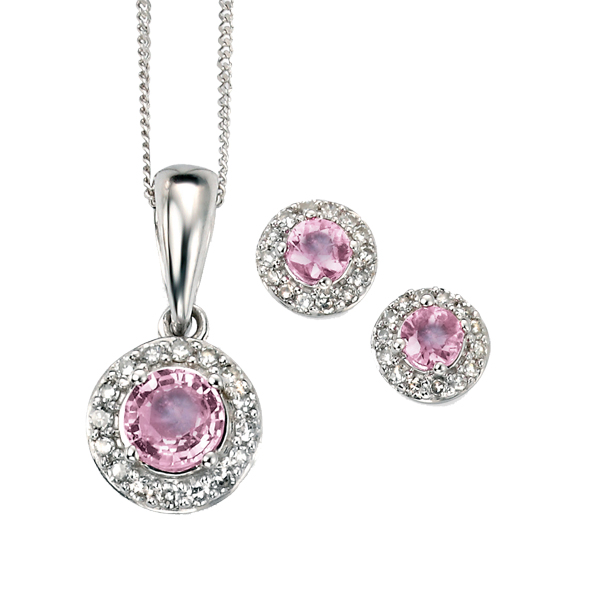 9ct white gold pink sapphire and diamond cluster pendant and earrings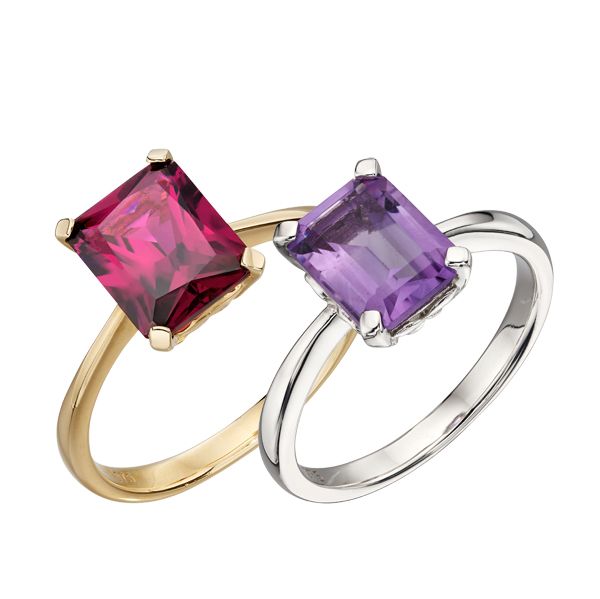 9ct yellow gold Brazilian garnet ring & white gold amethyst ring
We all love this gold Celtic garnet pendant with matching ring and to complete the set there is matching earring too.  This simple combination is so effective with the yellow gold seeming to bring out the richness of the red garnet.  When a design works, it works!
Adding to the mix of the lovely raspberry pink colours, we include these sweet pink sapphire and diamond cluster earrings and matching pendant set in white gold – perfect!
Sometimes the simplest of designs work and we feature two rings that use the garnet and amethyst to full effect – no extra detail required!
This month's birthstone is the noble Amethyst. This gemstone's colour varies from a deep grape purple colour to a more subtle pink violet. Interestingly we are now seeing the lighter pink lavender colours used in current jewellery designs. These pale pink stones are sometimes called 'Rose de France' and were seen originally in Victorian jewellery.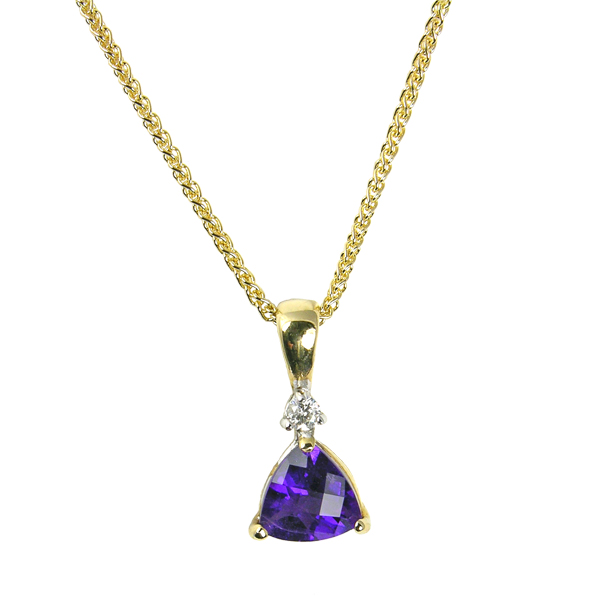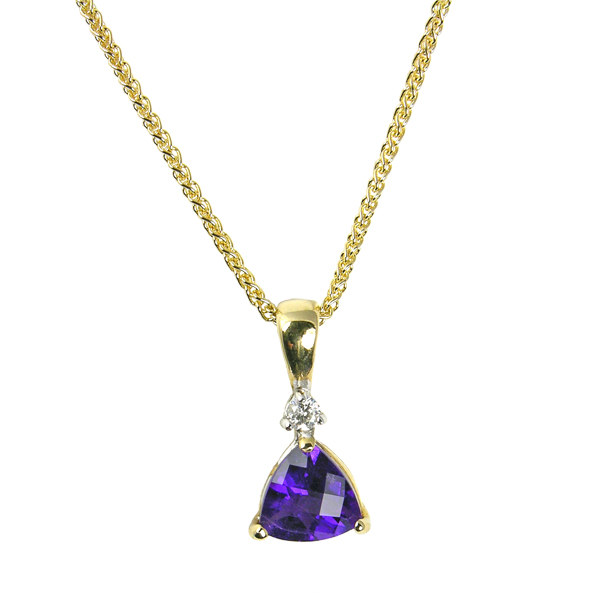 9ct yellow gold trillion cut amethyst and diamond pendant on a chain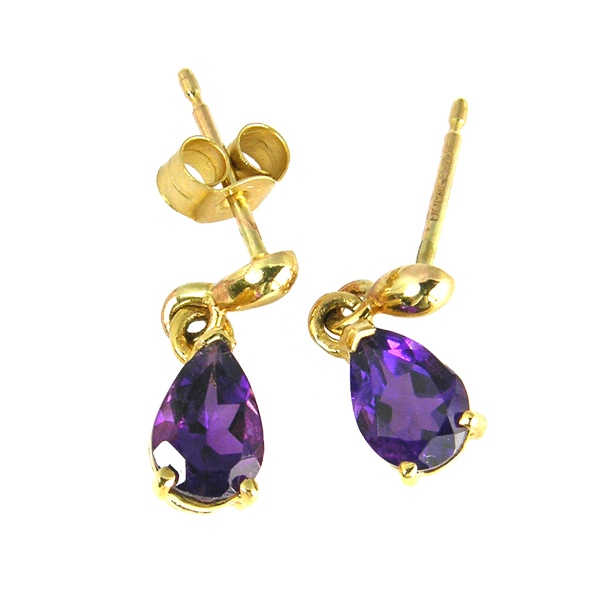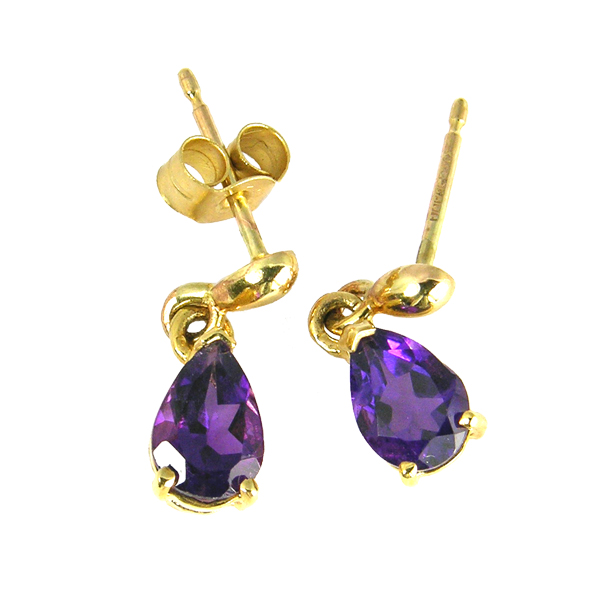 9ct yellow gold amethyst drop earrings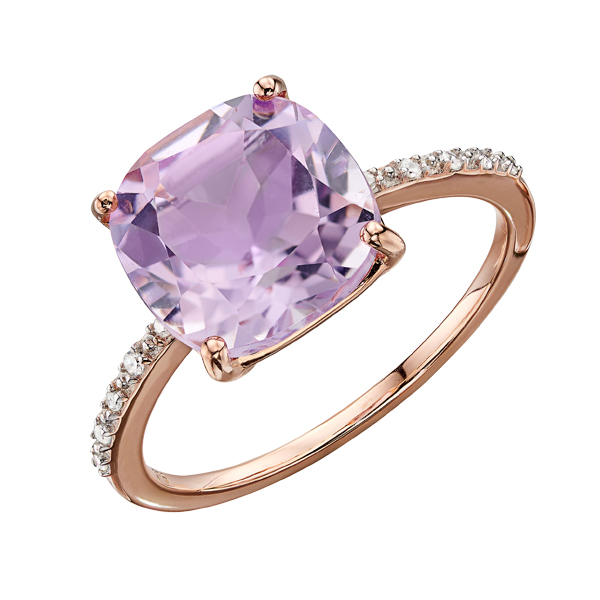 9ct rose gold Rose de France amethyst and diamond ring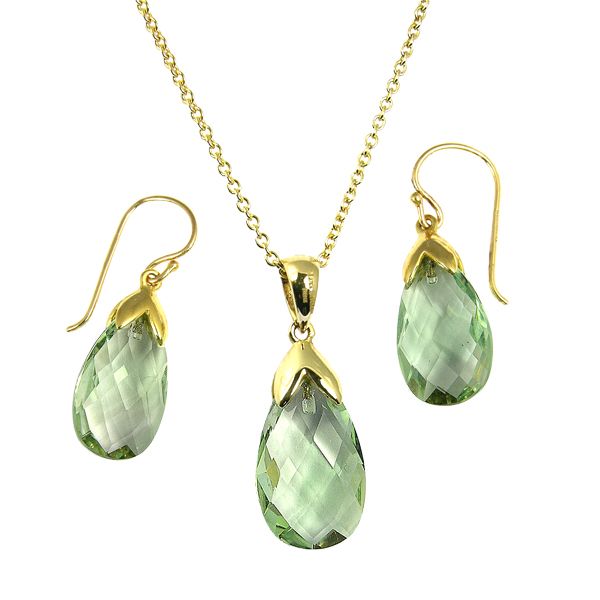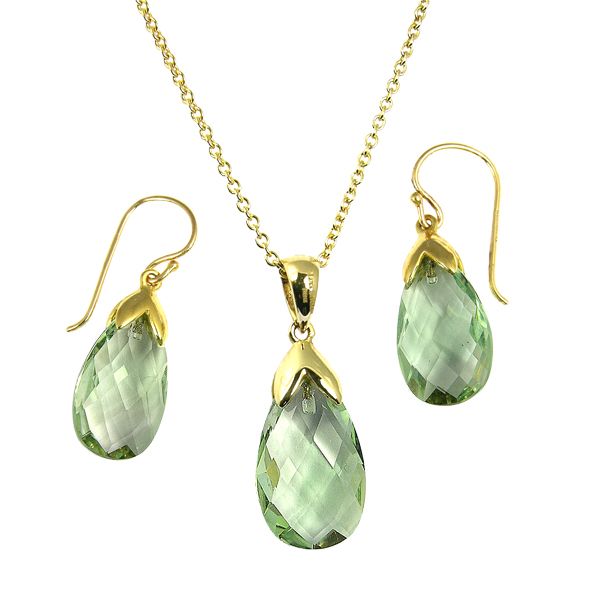 9ct yellow gold facated green amethyst drop earrings & pendant
Amethyst doesn't just come in pinks and purples colours! We found this striking water green amethyst pendant and drop earring set to add to our amethyst collection. I particularly like the cut facets on these pear drop stones.
This delicate Victorian inspired gold pendant evokes the classic features of a time gone by with its bright little amethyst stones and seed pearls set within delicate wire work.
Enamel designs are always popular as they enable the designer to highlight a range of colours.  The new Gingko leaf collection is inspired by the ancient Gingko tree which is portrayed throughout Chinese art and literature evoking powerful symbolism representing hope and peace.  These new designs include subtle shades of purple and lavender.
With Valentine's Day very much on the agenda especially for those who celebrate all things romantic I am including a new ruby and diamond heart pendant and matching earrings.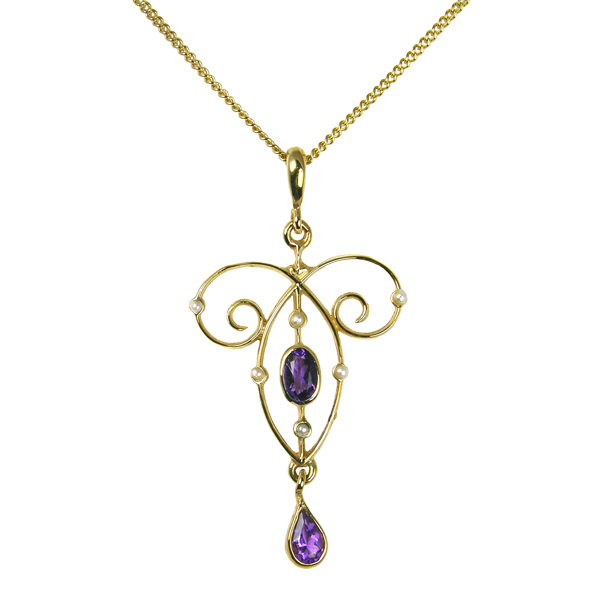 9ct yellow gold amethyst and seed pearl pendant on a chain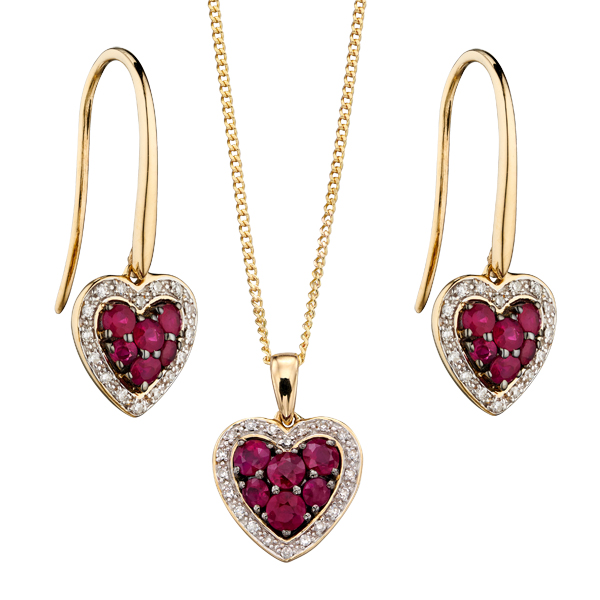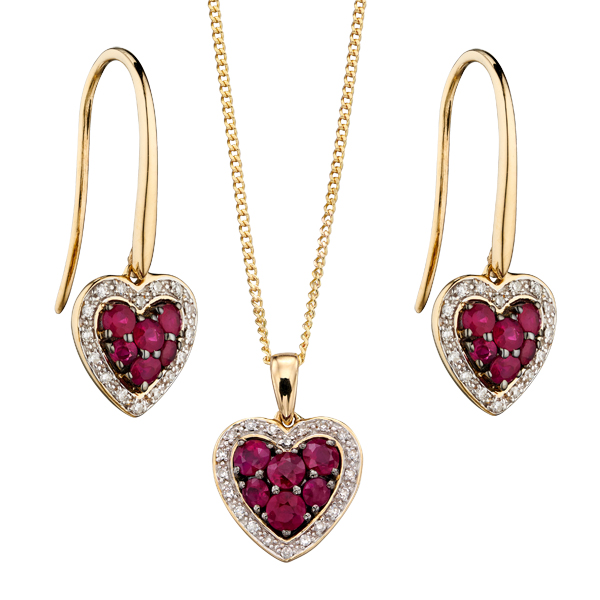 9ct yellow gold ruby and diamond heart cluster pendant and drop earrings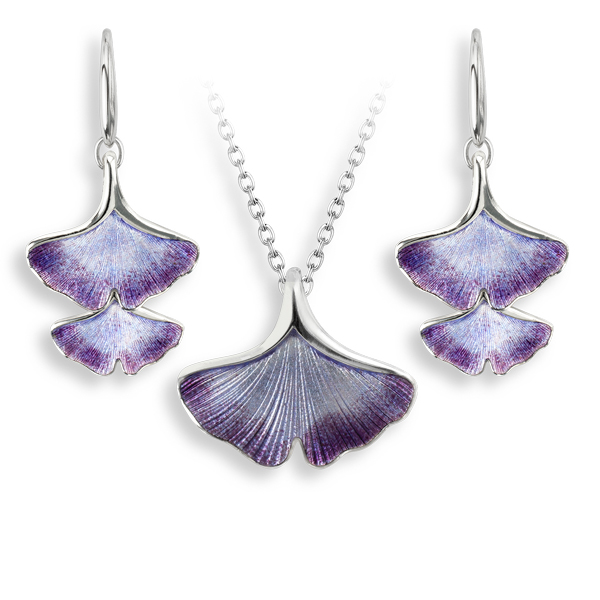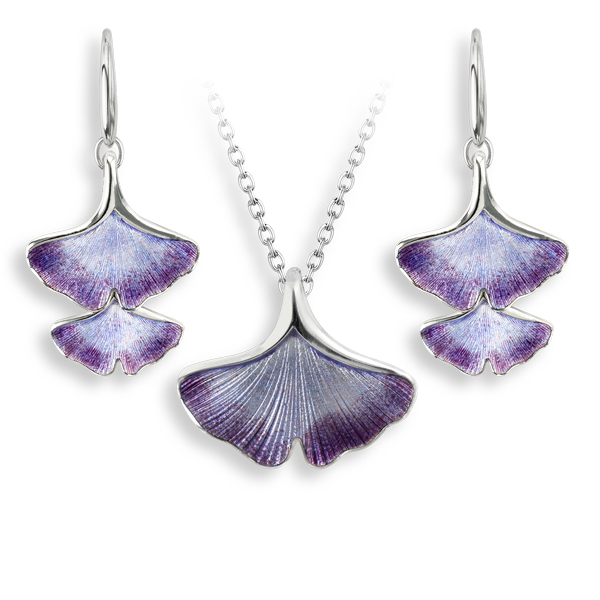 Sterling silver purple enamel Gingko wire earrings & pendant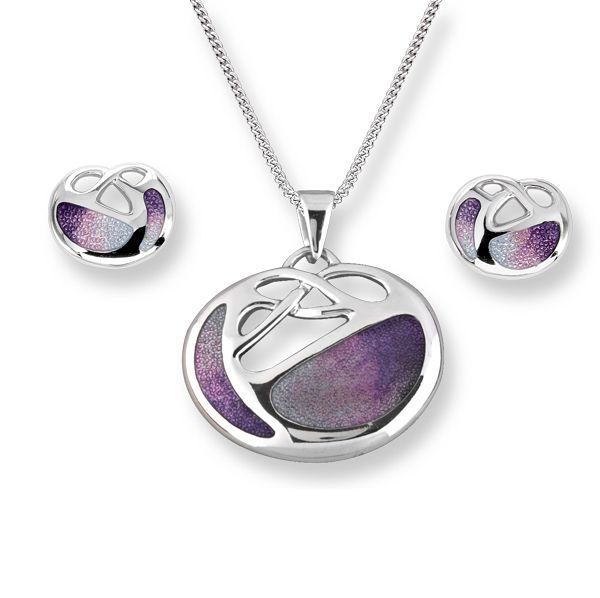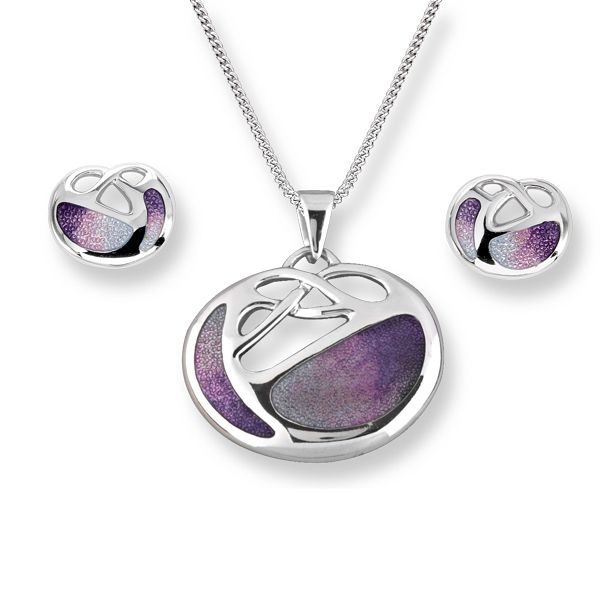 Sterling silver art nouveau style enamel necklace & stud earrings