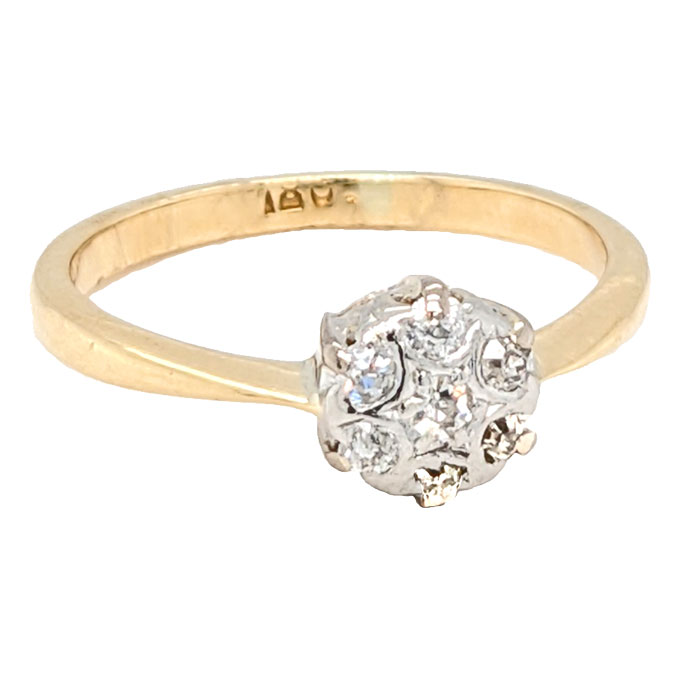 Pre loved 18ct diamond set cluster ring £225 our ref 102020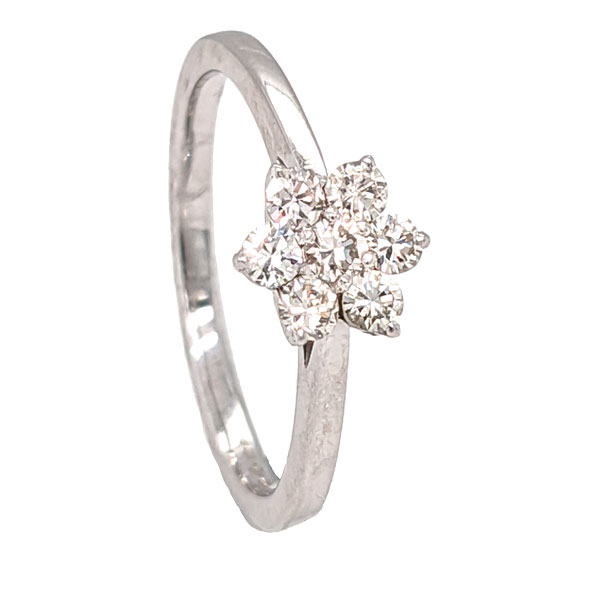 Pre loved platinum diamond cluster ring £895 Our ref 99665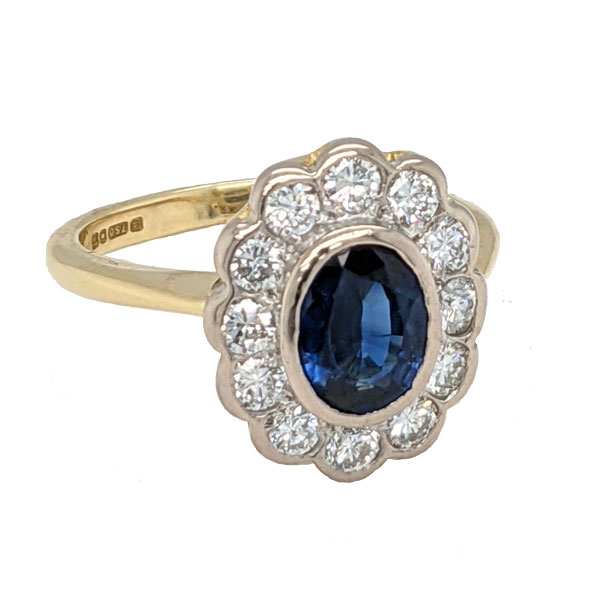 Pre loved 18ct sapphire & diamond cluster ring £1,995 our ref 99311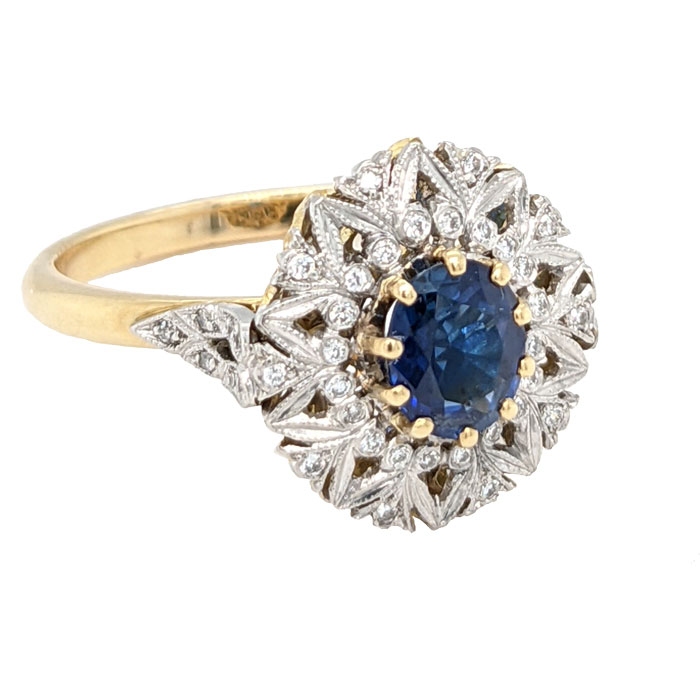 Pre loved 18ct sapphire & diamond cluster ring £525 our ref 102021
There are often lovely daisy pattern rings to be found there. This uncomplicated style which enables the use of smaller stones was typical of the late Victorian period when they were used as engagement rings.  I have pulled out two examples, one a neat round cluster, the other set in platinum with a flower petal style.
The 1980's brought one of the most famous engagement rings of all time.  The oval sapphire and diamond cluster ring worn by the late Princess Diana and now worn by the Duchess of Cambridge. This ring captured the elegant classicism of this design which is traced back to 1840 and kicked off an immediate trend of similarly set stones.
So I was not surprised that when I started to write this we had a number of pre loved sapphire and diamond cluster rings in our cabinets. The 'Diana' ring, claw set with classic proportions, or perhaps a modern cluster with a rub over set centre sapphire stone. There is a ring to suit all……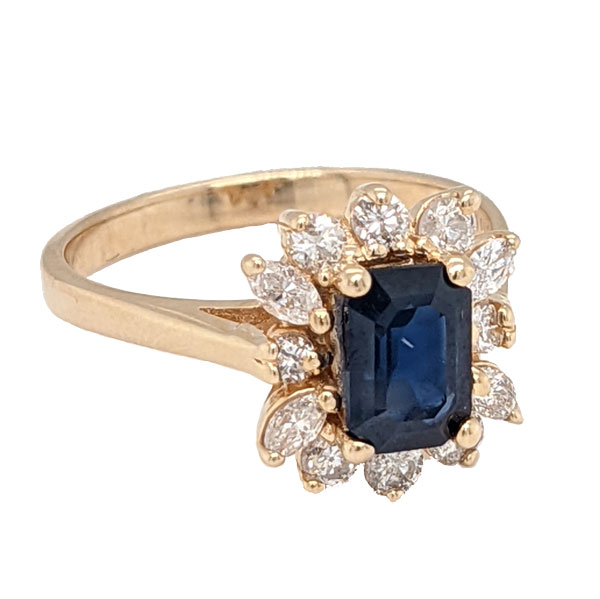 Pre loved sapphire & diamond-cluster ring stamped 14ct £1,275 our ref 99310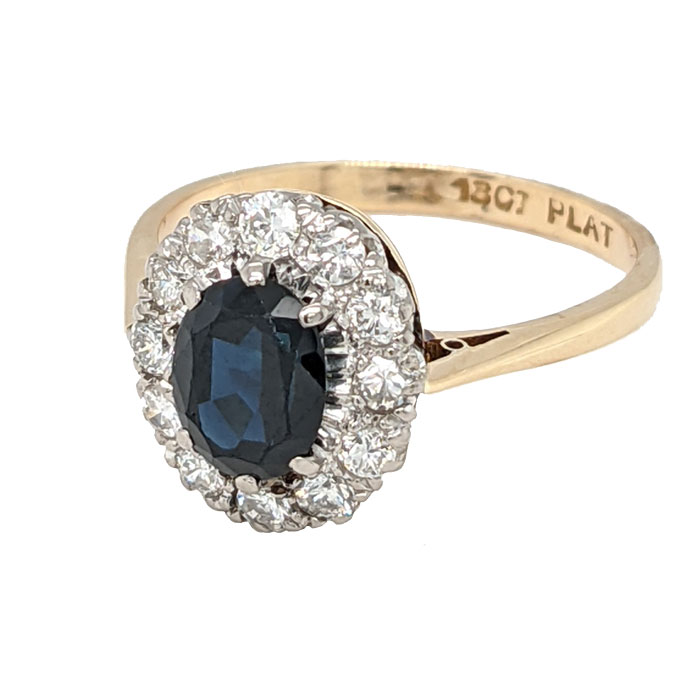 Pre loved 18ct & platinum sapphire & diamond cluster ring SOLD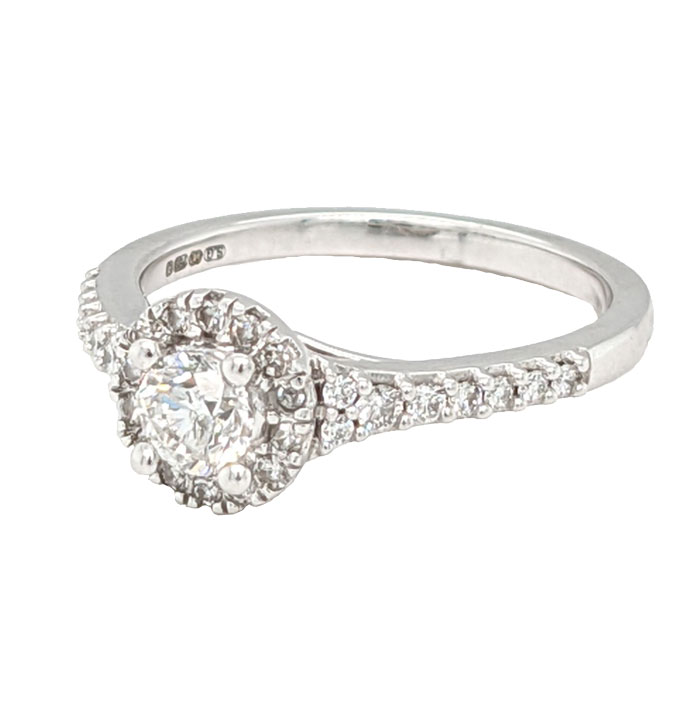 Pre loved 18ct diamond cluster ring with diamond set shoulders £925 our ref 100420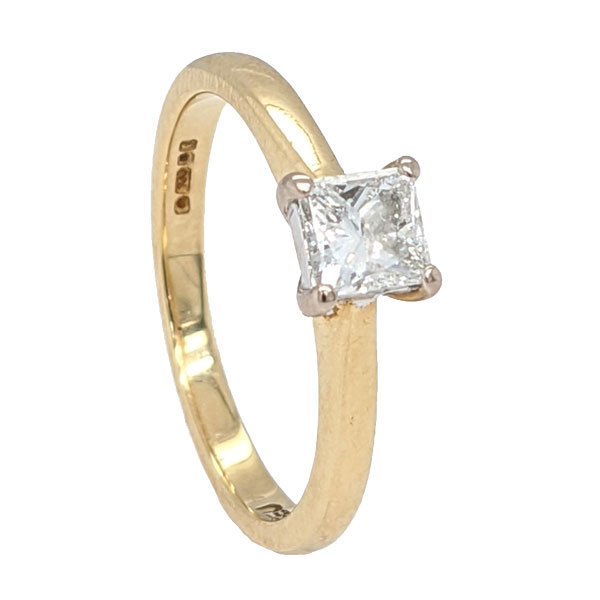 Pre loved 18ct-princess cut diamond ring £1,150 our ref 93916
Thinking about clusters, this 18ct white gold diamond cluster ring simply sparkles. Sometimes it's not necessary to have the stone set shoulders, but in this case the additional diamonds bring the whole ring design together.
The trend of square shaped diamond rings was started in the 60's and this continued into the 1970's when the princess cut stones were perfected. We often buy these new or in this case a beautiful pre loved princess cut diamond ring set in 18ct.
As with most modern single stone rings, styles are often influenced by the past, the emphasis is on the shape and cut of the diamond. The unwavering popularity of the diamond solitaire which was popularised in the late 1800's remains a firm favourite. The classic single stone we feature is just one example but there is more to suit all purses.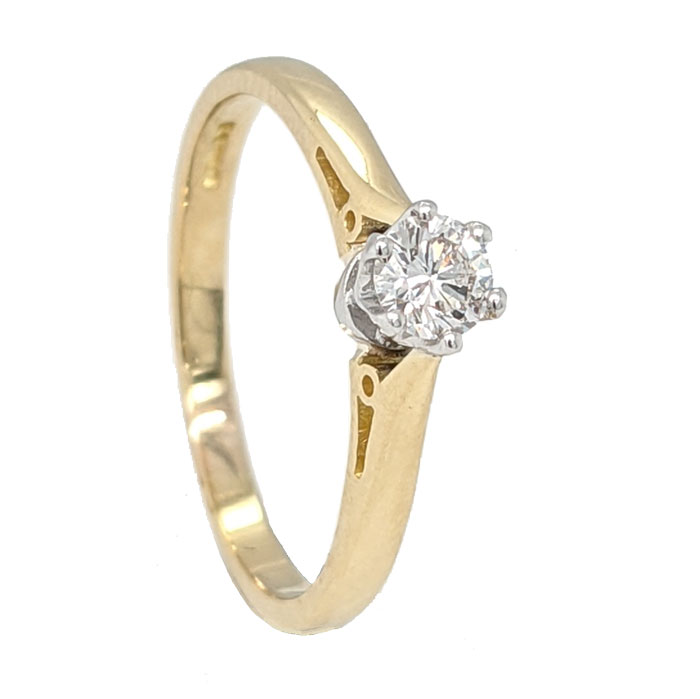 Pre loved single stone diamond ring £750 our ref 102044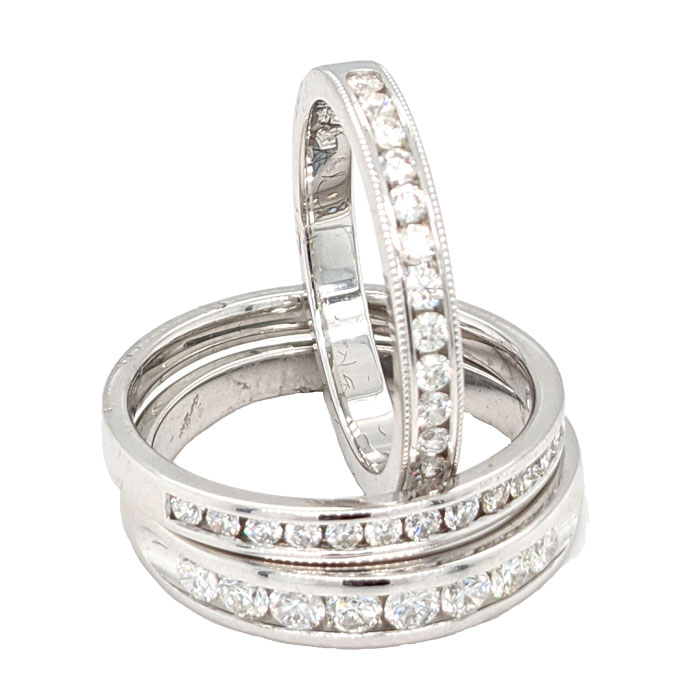 Pre loved diamond half eternity rings from £495 our refs 102054, 102055 & 102048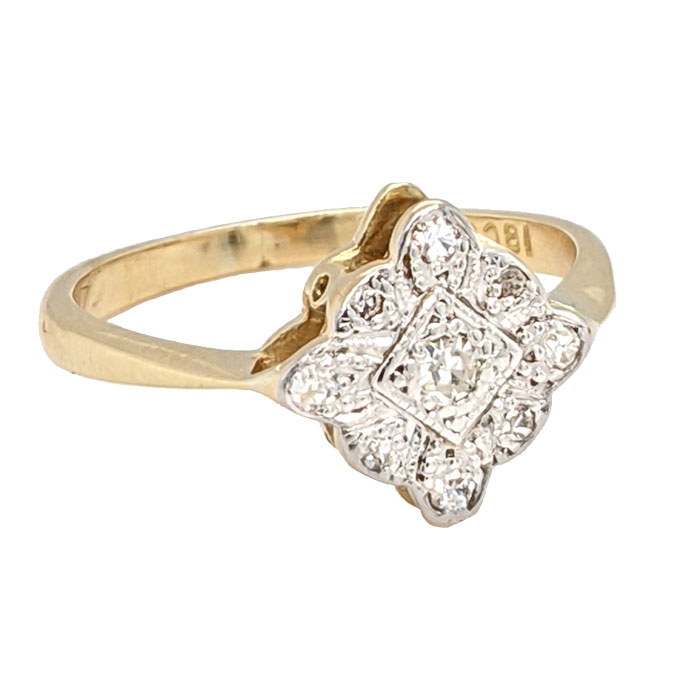 Pre loved18ct & Platinum Diamond Cluster Ring £395 our ref 102018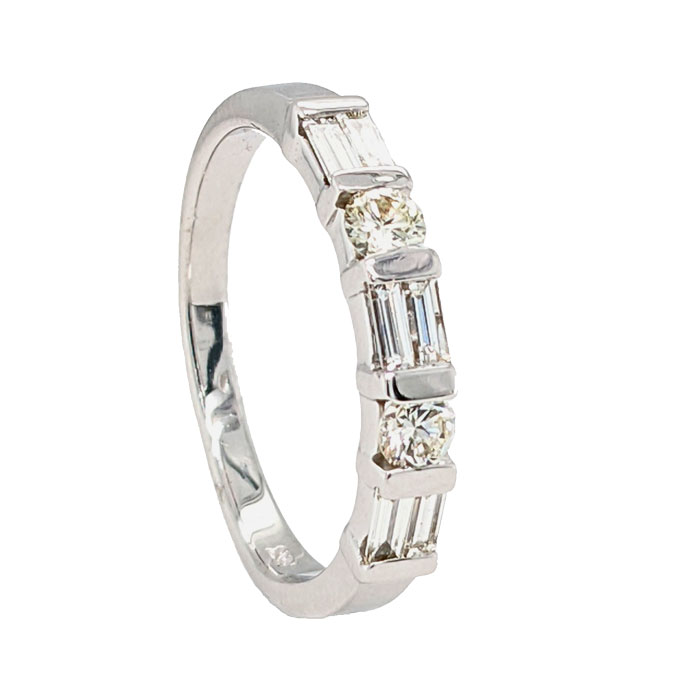 Pre loved 18ct bar set diamond half eternity ring £750 our ref 102056
The eternity ring was also known as an infinity ring and comprises of a continuous band of identical cut stones, a symbol of never ending love.  The group of three white gold half eternity rings are all set in 18ct white gold with a row of diamonds in a channel setting, the perfect choice for a snag free and secure design.
For something a little different , this contemporary eternity ring has a mixture of baguette and round brilliant cut diamonds held in a bar setting.
It's worth taking a peak into our signet box as we often have an interesting mix of rings including these three. The simple gold Claddagh ring, a traditional Irish ring features a pair of hands holding a crown.   The 18ct signet ring with a star set diamond would have originally been seen as symbol of status and even an heirloom but now is frequently worn as a fashion statement. Lastly, the three colour ring with its interlocking weave pattern has a Celtic feel to the design.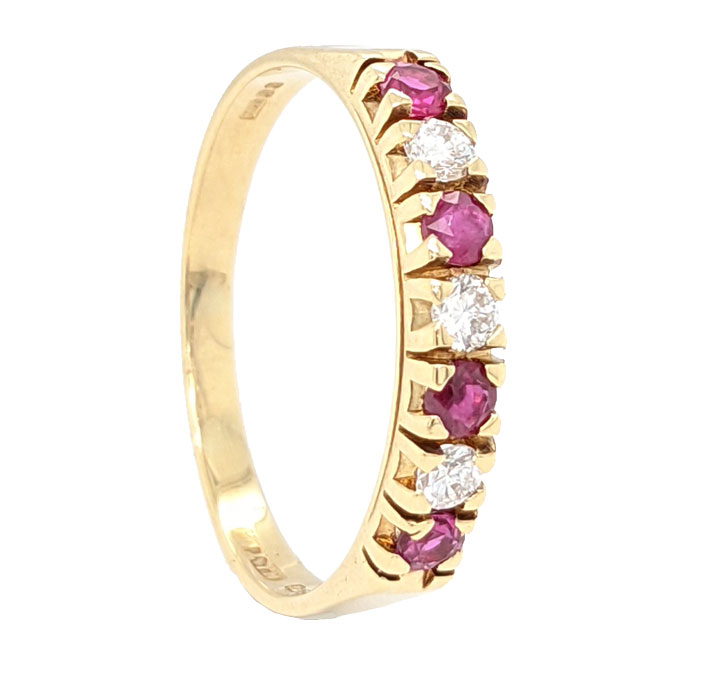 Pre loved 18ct ruby &diamond half eternity ring £375 our ref 102022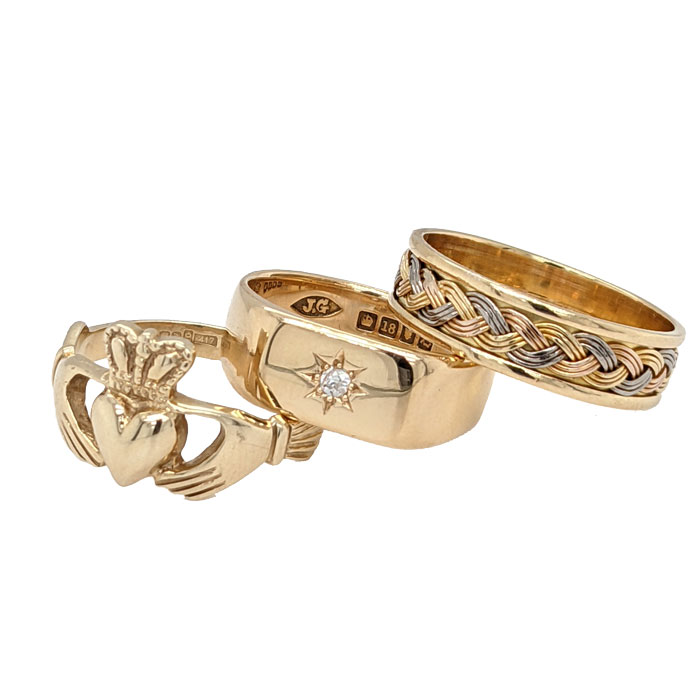 10ct Claddagh ring £175 our ref 92265, 18ct star set diamond signet ring £495 our ref 94846 & 18ct three colour gold ring £82 our ref 99634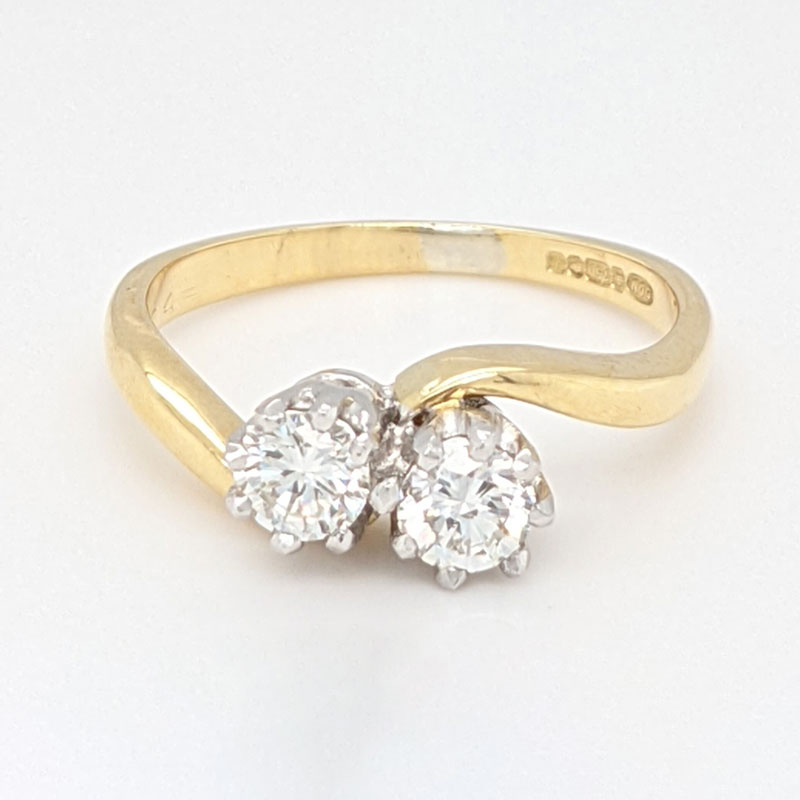 Pre loved 18ct 2 stone diamond ring with new platinum setting £1,050 our ref 99773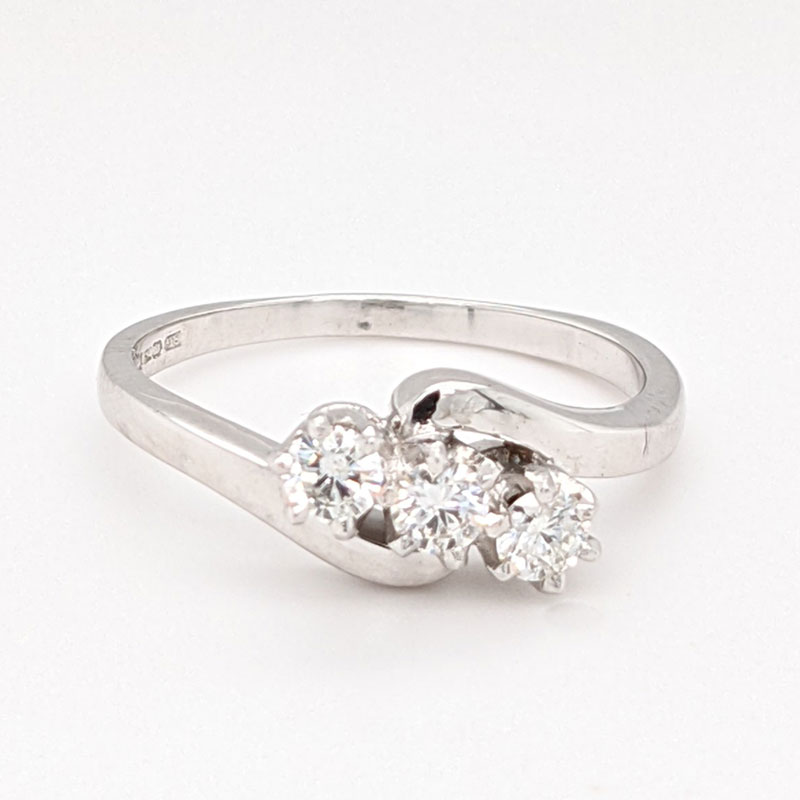 Pre loved 18ct white gold 3 stone diamond ring with new platinum setting £695 our ref 99774